Revolutionize Your Waiting Room With IMS OnArrival
Healthcare Technology Patient Engagement Practice Management
Tired of long wait times, overworked staff, and unhappy patients?
IMS OnArrival transforms your lackluster reception experience with automated check-in features that save time, conserve resources, and increase patient satisfaction.
Read More: Digital Patient Engagement Tools to Remedy Labor Shortage
Self Check-In Done Right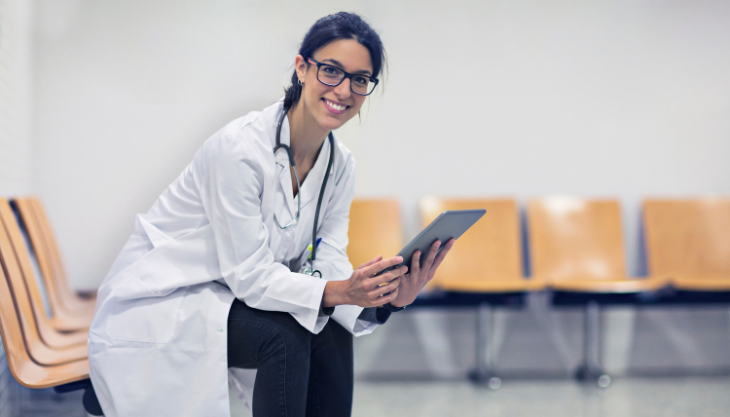 IMS OnArrival is a patient sign-in app that installs directly onto your android or iOS tablets.
Instead of making patients stand in line and waste time interacting with receptionists, you can utilize tablets to create slick sign-in kiosks that allow patients to complete pre-appointment tasks by themselves.
Simply position your patient check-in tablet in an accessible location and let IMS OnArrival handle the rest.
With IMS OnArrival, your team will:
Reduce administrative costs
Accelerate check-in times
Eliminate data entry errors
Free up staff
Make patients happy
IMS OnArrival integrates with your EHR and comes packed with features that will take your patient check-in kiosk to the next level.
Read More: 6 Ways Practices Can Increase Patient Retention
IMS OnArrival: Check-In Features That Deliver Results
IMS OnArrival's features complement each other to create a seamless patient onboarding experience without the hassle of traditional pen-and-paper procedures.
Speed up your waiting room and eliminate unnecessary back-and-forth with the following:
Versatile Patient Login for New & Existing Patients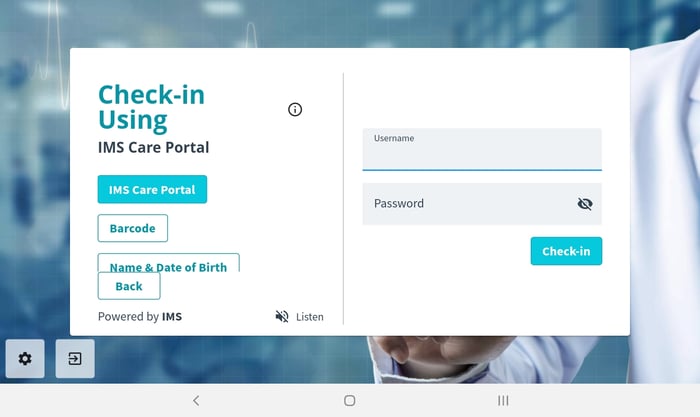 Some patient check-in apps only allow existing patients to sign in. Not OnArrival. OnArrival automates the entire login process whether your patient is a decade-long patron or coming in for their first appointment. No matter the patient, your staff can carry on knowing that they'll be taken care of.
AI-Powered Onboarding Process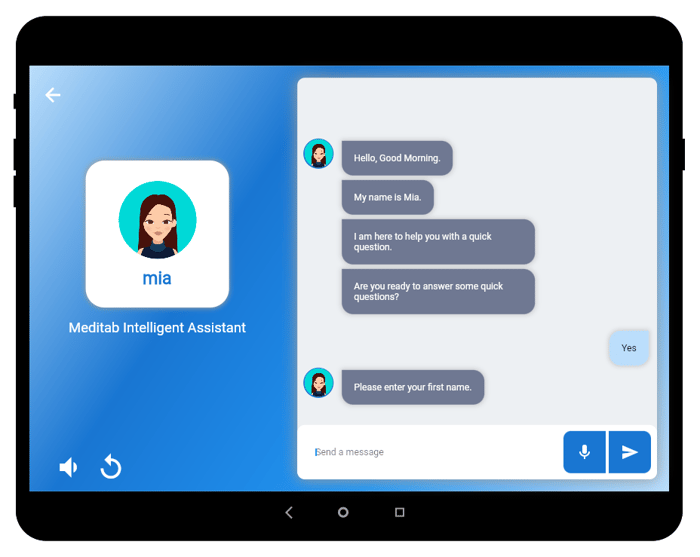 The Meditab Intelligent Assistant, or "MIA," elevates your process as a virtual receptionist to listen and communicate with your patients as they utilize the patient check-in kiosk. Amenities like voice assistance streamline the process even further by using advanced text-to-speech.
Simple Patient Demographic Updates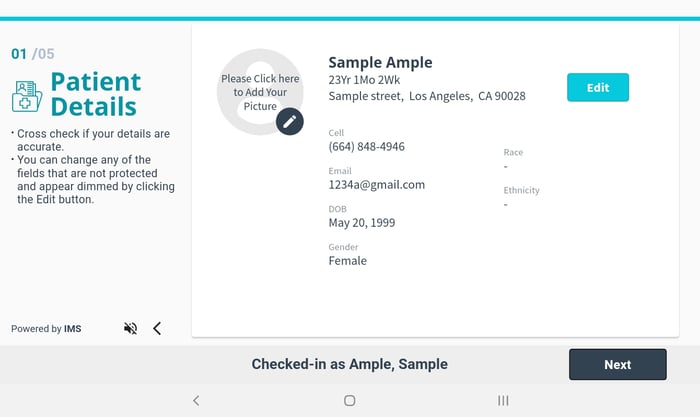 Let patients update information quickly from the patient check-in kiosk.
Quick Insurance Verification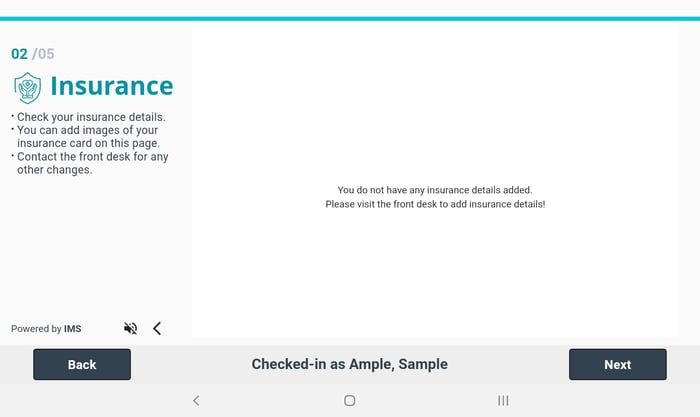 Store images of insurance cards through the patient check-in tablet to review insurance information automatically.
English or Spanish Interfaces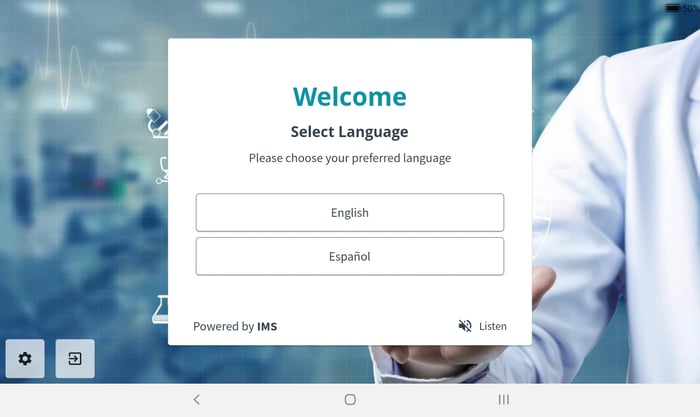 Make patient sign-in more accessible and reach a broader base of people with Spanish language options—even if your receptionist isn't multi-lingual.
Easy Set Up & Customization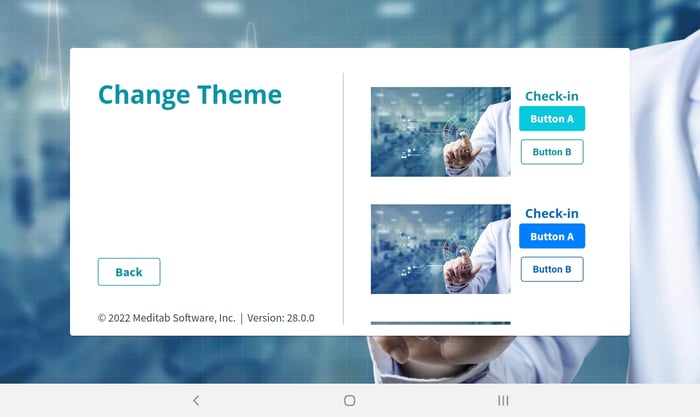 You need a check-in experience that's easy to implement and reflects your organization's personality, branding, and unique demands. Extended downtime and inflexibility equal less time treating patients or moving your practice forward.
Sign Forms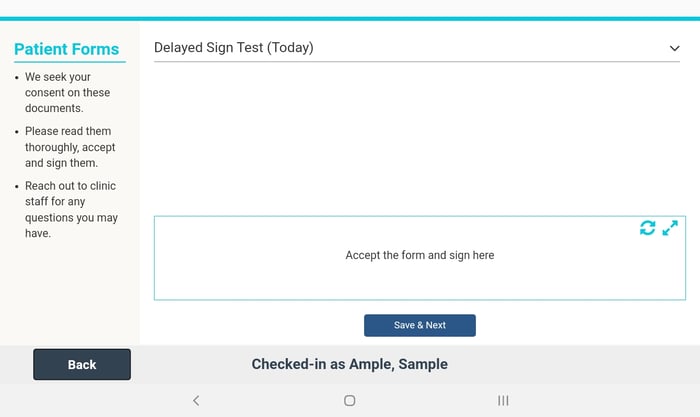 Paper is old-school. OnArrival takes registration to the 21st century by allowing patients to fill out their forms digitally from the patient check-in tablet, expediting one of the most time-consuming and wasteful administrative processes. The result is an eco-friendly, organized consent process that consolidates patient data.
Offer Convenient Payment Options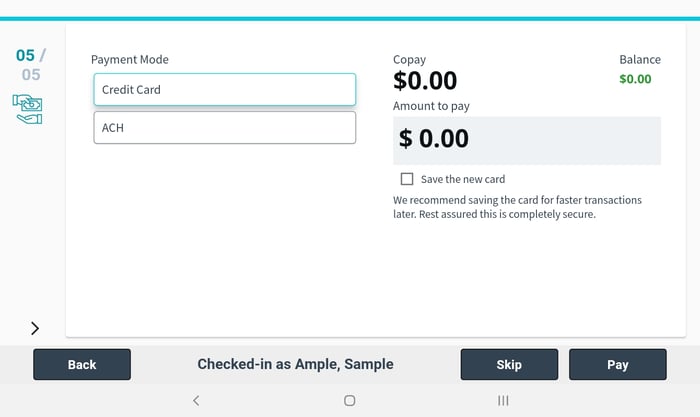 Billing can be stressful, but not if you use OnArrival. Give your patients flexible payment options at check-in to accelerate the payment process.
In addition to added convenience, this method removes the awkwardness from billing by creating distance between your patient relationships and business transactions.
Read More: 5 Ways to Improve Patient Collections
Best of all, OnArrival is fully integrated with the IMS EHR system, meaning the information patients input from your sign-in kiosk becomes immediately accessible across your entire EHR platform.
Transform Your Practice With an All-in-One System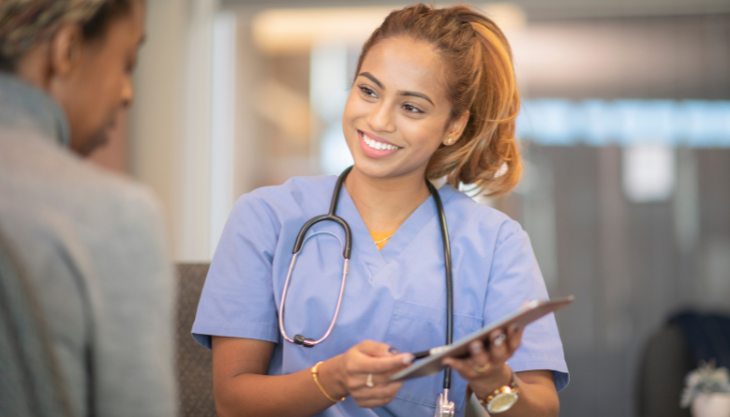 IMS On Arrival is just one component of the complete Intelligent Medical Software (IMS) platform. IMS combines practice management, business administration, and healthcare delivery with a best-in-class EHR solution to create the most comprehensive, all-in-one experience possible. Schedule a conversation with the Meditab team to learn how practices across the industry are achieving better results with IMS.
Share this post: on Twitter on Facebook on Google+