Digital Patient Engagement Tools to Remedy Labor Shortage
Healthcare Technology Patient Engagement ABS
The healthcare industry faces another challenge while still battling the pandemic — labor shortage. One in five healthcare workers quit their jobs since COVID-19 hit. Of those who kept their jobs, 19% said they'd thought about leaving the healthcare field entirely. Many have chosen to retire early due to the stress of the pandemic. Burnout, emotional exhaustion, and feelings of lack of support drive even the most committed healthcare employee to quit.
Read More: Best Practices to Avoid Physician Burnout
Less staff means more workload for the remaining employees, hurried patient interaction, and unsatisfactory levels of care. Non-clinic staff feel the impact, too. There are fewer employees to answer the phone, streamline check-in, and process medical claims. As a result, practices reduce services, shorten operating hours, and turn away patients.
Some healthcare organizations create attractive compensation packages, well-rounded benefits, and more work flexibility to address staff shortages. While this strategy is a great way to attract and retain new employees, few practices can afford to raise employee pay, especially those still recovering from pandemic losses. Digital patient engagement tools promise a cost-effective way to mitigate staff shortages by automating manual processes that significantly reduce time and resources spent on routine tasks.
How Digital Patient Engagement Tools Can Help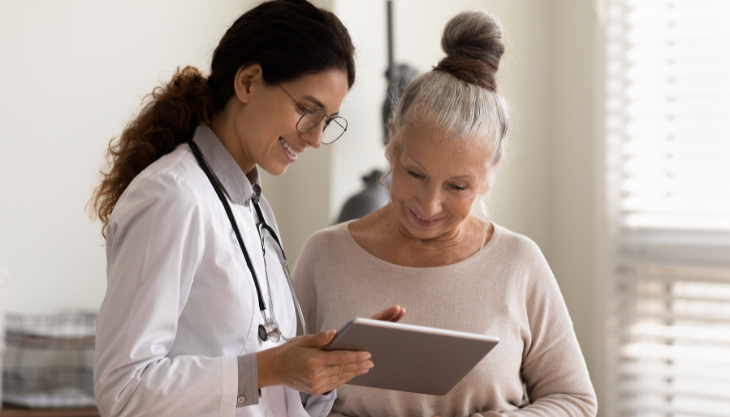 Patients willingly accepted virtual care options at the onset of the pandemic, and they still prefer its convenience as in-person care resumes. Even with fewer staff resources, your practice can meet that demand and work efficiently with digital patient engagement tools.
1. Patient Appointment Booking Software
When patients have the option to schedule appointments on their own without having to call your office, your front desk staff can devote their time to other essential tasks. With patient scheduling software, any reservation slot requested by the patient appears real-time in your EHR, and the system automatically sends an appointment confirmation along with any required patient forms. Patients can quickly fill out and sign the necessary documents before the appointment. It puts less burden on your staff and reduces time spent on pre-appointment tasks.
For a seamless scheduling experience, integrate the patient scheduling software with your practice website. Meditab's appointment booking system, for example, customizes the booking page to match your clinic's website branding.
Read More: Benefits of Direct Scheduling: How Online Appointment Booking Gets You More Patients
2. Patient Texting Software
A patient texting software allows you to send automated appointment reminders for upcoming appointments. Responses automatically reflect in your EHR, so there's no need for your staff to call and follow up. Patient coordinators can create templates through the software to automate post-surgery instructions and medication reminders. Billing staff can send message alerts once patient statements become available for faster collection. Solutions like IMS InTouch even send personalized greetings, segment and send specialized messages to select patients, and broadcast public health announcements.
Read More: 4 Steps to Help Improve Patient Communication
3. Patient Check-in Kiosk
Manual check-ins congest your front desk leading to overwhelmed staff and unhappy patients. On the other hand, patient check-in kiosks allow patients to check-in themselves without staff intervention. Patients can update their demographics without crowding the front desk area and settle their co-pay without bothering your billers. It allows patients to move through the check-in process efficiently without requiring much of your staff's attention.
AI-powered patient check-in kiosks further speed up the check-in process and optimize your staff's time, especially for new patient registration. For instance, when new patients enroll themselves through IMS OnArrival, Meditab's Intelligent Assistant (MIA) will ask them basic demographic questions. The answers automatically create a new entry in your EHR and save your staff time from entering patient data in your EHR again.
4. Healthcare Patient App and Portal
Providing patients multiple ways to access their health information decreases your staff's time answering patient inquiries. Healthcare patient portals and apps allow patients to access their health information and empower them to take action. They can book appointments, pay bills, join telemedicine visits, request refills, and more. When patients take action, it reduces your staff's manual, day-to-day tasks.
How to Do More with Less: EHR-Integrated Patient Engagement Tools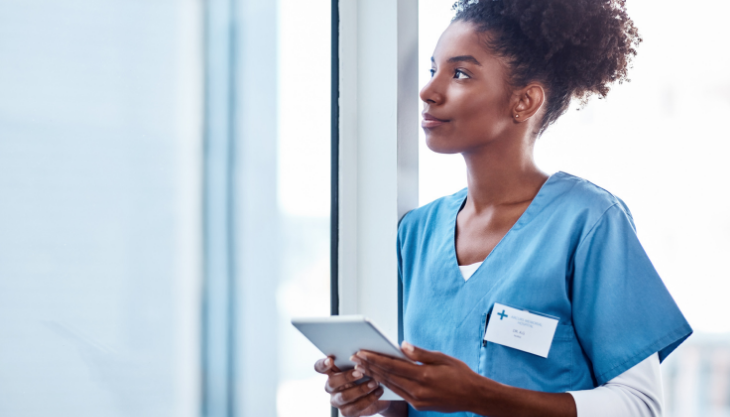 Implementing robust digital workflows gives your practice the agility to adapt to healthcare's challenges, including another pandemic-induced labor shortage. It enables you to optimize staff productivity, adapt to patients' changing needs, and help your practice stay afloat. A modernized work environment helps attract and retain healthcare workers. With the help of automated workflows, you can help staff find meaning in their work again, improve employee satisfaction, and reduce attrition.
Having patient engagement tools integrated with your EHR means a convenient and hassle-free way of engaging patients without switching or pulling up multiple systems. You don't need to go back and forth with various systems to check patient data, confirm appointments, or check in patients. IMS, Meditab's EHR software solution, allows you to do it all. As an all-in-one software solution, IMS helps you create automated patient engagement workflows and enables you to do more with less.
Share this post: on Twitter on Facebook on Google+