Dr. Windy Olaya: Treating Cancer and Restoring Confidence
CosmetiSuite Physician Well-Being Provider of the Month
In certain instances, scars can spur light-hearted conversations about the past. For some people, it even brings back fond memories of their childhood. But for many cancer survivors, scars serve as a reminder of their suffering and pain.
If you ask Dr. Windy Olaya of Pink Surgery, helping patients beat breast cancer is only half the battle; the other equally important half is restoring their confidence and making them feel like their old selves again.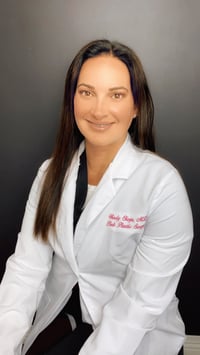 "Just because you have cancer, it doesn't mean you have to look deformed," she says. "I really try my hardest to make it look even better than you did before you had cancer."
Located in Orange, California, Pink Surgery offers a wide range of services, from breast reconstruction to breast augmentation and skin cancer removal, just to name a few. Pink Surgery prides itself in its excellent resources thanks to Dr. Olaya's expertise and a team of professionals who share her passion for cosmetic surgery and breast cancer treatment.
"I have such good people that work for me," Olaya says proudly. "I try to make them happy — it makes my life happier."
As a surgeon and breast cancer care specialist, Olaya wears multiple hats simultaneously when treating her patients. "I probably do about 30% cosmetic, 60% cancer, and then 10% other," she says. "Because I'm double board-certified, I get to pick and choose what I want to do."
The Road to Discovering Her Passion
Even at a young age, Dr. Olaya had her sights set on a dream.
"I always wanted to be a doctor ever since I was young," she says. "I didn't have any physicians in the family. I just thought that I wanted to be a doctor because it's cool."
However, her exposure to the world of medicine came earlier than expected.
"When I was in high school, I got diagnosed with an autoimmune disease," Olaya recalls. "I had to be hospitalized, so I was in and out of school. And I got really close to my physicians at that point."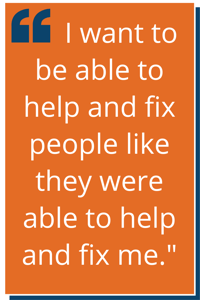 After seeing what doctors do up close, her drive to become one only grew stronger.
"And so when I recovered, I was like, 'I want to be able to help and fix people like they were able to help and fix me," she says.
Later on, Olaya would discover her love and passion for breast cancer treatment and plastic surgery. Even if it meant more years of studying, she didn't let it deter her.
"When I was in training, I knew I wanted to be a surgeon. I did general surgery first, and I really liked breast cancer," she recalls.
"Towards the end of my training, I started staying with the plastic surgeons to do the reconstruction. And I thought, 'Oh my goodness, this is awesome,'" Olaya explains. "I love to reconstruct. I get to take out cancer, and I get to reconstruct at the same time. I have to do this."
For Dr. Olaya, the battle doesn't end after removing cancer. Her services also include reconstructive procedures to help patients fully recover and regain their confidence. "It's just a passion to be able to do that. Not many people do," she says proudly.
Olaya's Insistence on a Patient-First Philosophy
The phrase "putting patients first" may seem redundant in the healthcare industry, but Dr. Olaya takes that perspective to heart. Her willingness to go above and beyond for her patients shows her sincerity and desire to help.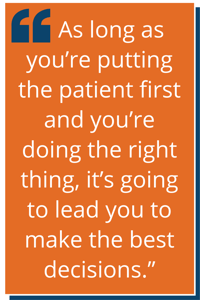 "Sometimes it's frustrating to deal with insurance companies," she laments. "I'll have patients who have cancer, and I'm fighting for the most basic things."
Despite the painfully complex regulations and lengthy processes that come with healthcare billing, Olaya doesn't hesitate to do what's necessary for her patients.
"The patient needs it, but they make you jump through five hoops to get it. And in the middle, you have the patient who was like, 'I don't understand why I can't get this done,'" she says in frustration. "And I'm like, 'Let me talk to your insurance company.'"
For Dr. Olaya, her job as a physician doesn't just start and end with providing medical care; you have to show genuine empathy as well.
"I think it comes down to just caring about your patients," she says. "As long as you're putting the patient first and you're doing the right thing, it's going to lead you to make the best decisions."
Read More: Why is a Healthcare CRM System Necessary for Cosmetic Practices
Maintaining Work-Life Balance
As a doctor, business owner, and mother, Olaya admits that striking a balance between work and family time isn't easy. But the pandemic has been an unlikely teacher in her learning how to make more time for personal life.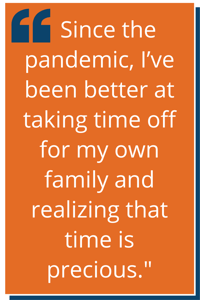 "Since the pandemic, I've been better at taking time off for my own family and realizing that time is precious," she says.
"I have two kids at home — a 10- and an 11-year-old. I think I've been better at trying to make time for them during the pandemic."
Even if her days are usually packed, Olaya aims to be a more hands-on mom to her kids.
"I think it's more of a work-life balance, where I've tried to work harder, but then take some time off to go see that soccer or basketball game."
Read More: Ways to Identify and Copy With Pandemic-Caused Stress
Adapting to Changes
While the pandemic has been difficult, especially for independent practices, it has also accelerated and expanded telehealth adoption. And Pink Surgery has been quick to adapt.
Although surprised at the rate at which she uses telemedicine, Olaya appreciates the advantages of being able to connect with her patients remotely.
"I never thought we would be doing telehealth, but now I have patients across the country that I'm able to follow," she says. "I will definitely use telehealth more."
Forever a Student of the Game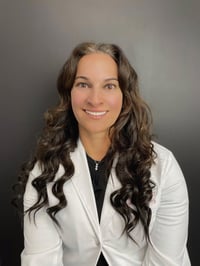 Despite her extensive experience and vast expertise, Dr. Olaya is not one to shun other people's insights and advice. In fact, she actively welcomes new ideas for both the business and medical aspects of her duties.
"I'm always asking the people in and outside of my field, whether younger or older, what they do," she says. "Like, 'Oh, what do you do for this? Who's your biller? What do you use for EMR? Do you like it?'"
Medical professionals always face difficult choices — a responsibility that is amplified if you're running your own practice. You're going to have to make clinical and business decisions simultaneously. But for Dr. Olaya, there's one simple yet powerful principle that has guided her throughout her career. "You do the right thing. Always. Do the right thing. That's never a bad answer."
Learn more about past Providers of the Month
Share this post: on Twitter on Facebook on Google+