9 Must-Have Ophthalmology EHR Features for Your Practice
Healthcare Technology EHR Ophthalmology
An ophthalmology practice's workflow consists of aspects that other specialties usually don't consider. From co-managing patients to handling two sets of diagnosis codes and planning surgeries, your EHR needs specialized features that support what ophthalmology practices do every day.
In addition to generic features such as e-prescribing, charting templates, and coding advice, there is a lot to consider when finding the best EHR for your practice. Here are some ophthalmology-specific must-have features that should always be on top of your list.
1. Ophthalmology Surgical Planning Sheets
The best ophthalmology EHRs should help you streamline your surgical workflow. Digital surgical planning sheets in your EHR enable you to provide the best patient outcome, increase patient safety, and ensure continuity of care. You can easily pull up the patient's information, plan the surgery and share it with your care team or other facilities without switching to another software. You can save time and paper and reduce human errors when updating and sharing crucial patient information across your office.
2. Co-Management Workflow Tools
Ophthalmologists work collaboratively with other eye-care providers, so it's essential to look for an EHR equipped to handle that kind of workflow. These tools can include a good communication platform, split billing features, a referral system, and a shareable surgical planning sheet.
If you have these tools integrated with your EHR, you can improve patient care, increase referrals and grow your practice.
3. Specialized Ophthalmology Scheduling Features
Scheduling procedures in an ophthalmology practice are quite different from other specialties. Every ophthalmologist has their own manner of working, so not all operations take the same amount of time. Some ophthalmologists prefer to do multiple procedures on one eye in a single visit. Pre-op procedures and the time required may also differ per surgery and per provider.
Your EHR should be flexible enough to accommodate each provider's preferences as well as account for pre-op time in just a few clicks. Find an EHR that knows the specialized workflow of an ophthalmology practice to ensure your day-to-day runs smoothly.
4. Image Management with DICOM Integration
DICOM is a standard when it comes to medical imaging. Look for an EHR that can integrate with DICOM machines, enabling seamless uploads to your EHR, while saving time and reducing errors.
To improve patient outcomes, ophthalmology EHRs should have an image management system that lets you compare and analyze different diagnostic tests or track progress for the same test. With a built-in image management system, providers can easily switch between images or the patient's charts for proper documentation and diagnosis.
5. Surgical Preference Cards
Surgical preference cards contain all the information about surgical supplies and equipment needed per procedure and per provider. Linking surgical preference cards to your EHR provides an automated and hassle-free surgery workflow, from scheduling to your final billing. When setting up a surgical procedure, the system informs the staff to prepare the necessary items, communicate with the anesthesiologist, and check for insurance eligibility. An organized and updated surgical preference card can even help your biller accurately bill for the procedure.
6. Automated Lens Inventory Management
Inventory tracking helps you avoid running low on supplies for an upcoming surgery.
Not having the right lens on hand can mean postponing the procedure for another time, decreasing patient satisfaction.
Automated lens inventory management in your EHR, with all patient, surgery, and inventory data in one place, makes it easier to check if you have enough supplies to plan out your surgeries. That means no unforeseen errors and no unexpected delays in patient care. It also helps you bill correctly for the lens used in the procedure, streamlines your workflow, and saves your staff time from manual processes.
7. Mobile Capabilities
Mobile EHRs allow you to provide continuous care for your patients beyond the walls of your clinic. Meanwhile, patient engagement apps help educate your patients, aid in compliance with their post-operative care, and result in ideal patient outcomes.
Read More: Why Should My Practice Get a Mobile EHR?
8. Lead Management
Keeping track of your leads, converting inquiries into new patients, and retaining existing patients are vital to growing your business. Having lead management tools in your EHR allows for seamless conversions. In addition, it reduces the room for human error when inputting data and provides a single place for all practice and patient data-related information.
Lead management tools are also an excellent way of tracking referrals from primary care providers and optometrists, helping you maintain an active relationship with other providers.
With a lead management tool in your EHR, you can see where your patients are coming from and make informed business decisions from there.
9. Office Management Tools
Practices too often neglect the business side of things, negatively affecting the quality of patient care. You might be unintentionally ignoring patients-in-need due to an inefficient phone system. A flawed medical record request process can lead to a delay in patient care. Additionally, understaffing can lead to prolonged patient wait times or, worse, patients abandoning their treatments.
Read More: Strategies for Supporting the Business Side of Your Practice
Having office management tools in your EHR can help you level up your quality of care.
All Your Ophthalmology EHR Software Needs in a Single Platform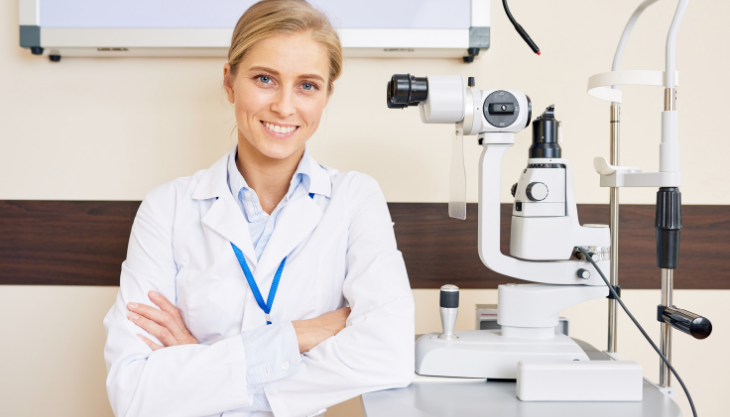 In an industry that's constantly evolving, finding an EHR that can adapt to changing healthcare needs and trends is essential. Not only should your EHR help you improve patient care, but it should help you achieve workflow efficiency and financial success.
OphthalmologyEHR, Meditab's software solution for ophthalmology practices, empowers practice to take care of all areas of their practice with ophthalmology-specific tools, and provides full EHR, practice management, and office management systems, all in a single software.
Working hand-in-hand with ophthalmologists, Meditab developed features like a digital surgical planning sheet, co-management workflow tools, and more, all with your specific workflow in mind. It supports your day-to-day like no other EHR can. OphthalmolgyEHR is everything you need to care for your patients and manage and grow your business.
Share this post: on Twitter on Facebook on Google+