The Biggest Changes in Medical Practice After a Year of the Pandemic
TeleHealth Physician Well-Being COVID-19
It's been a year since life as we knew it began to take a different turn. The Coronavirus pandemic brought unprecedented challenges very few imagined possible.
After a year of enduring these challenges, how are private practices across the country coping? What challenges has the medical community risen above, and which ones do we still have to face? Take a look at some of the most pressing issues that remain and how your practice can bounce back from the pandemic stronger than before.
Tackling the Financial Strain
The country's private medical practice infrastructure felt some of the heaviest blows from the pandemic. In August last year, a survey report from The Physicians Foundation found that 12% of the respondents were either planning to or had already shut down their practices due to the pandemic's crippling financial impact.
"I've taken a huge financial hit this year. A lot of doctor's offices have shut down." said Texas-based OB/GYN Dr. Heather Bartos in a recent interview with Refinery 29. "A lot of friends of mine have either had a reduction in work hours, or they were furloughed, or laid off."
It wasn't just the practices and provider organizations that suffered in the past year, but also the patients and communities they serve. Fear of the pandemic forced many patients to delay care, resulting in worsening health conditions.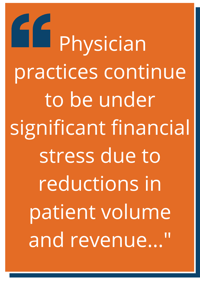 With patients putting off or canceling their appointments, practices now face a serious existential threat from the dramatic dip of in-patient visits, income, and revenue.
"Physician practices continue to be under significant financial stress due to reductions in patient volume and revenue, in addition to higher expenses for supplies that are scarce for some physicians" said American Medical Association (AMA) president Dr. Susan R. Bailey in a report published on the AMA website.
During the tail end of last year, however, patient visits gradually returned to pre-pandemic levels, according to a Commonwealth Fund report. Unfortunately, there are caveats. The rebound in patient visits varied depending on several variables, including specialty.
Dermatology, adult primary care, ophthalmology, and urology saw an increase above their pre-pandemic baseline. Meanwhile, pediatrics, allergy and immunology, behavioral health, and other specialties continue to have substantially low patient visits.
Telehealth Is Here to Stay
The pandemic catapulted telemedicine forward. The U.S. Department of Health and Human Services (HHS) reported a 50% increase in Telehealth visits during the pandemic. Several other healthcare industry statistics and trends also point to a high potential for Telehealth to continue shifting care delivery even after the pandemic is over.
"Telehealth is a critical part of the future of effective, efficient, and equitable delivery of health care in the United States," AMA Trustee Dr. Jack Resneck said in a written statement to the U.S. House of Representatives Energy and Commerce Committee's Health Subcommittee earlier this month.
Read More: 10 Tips to Improve Your Telehealth Sessions
Telehealth is an excellent way to extend your reach to patients in rural and underserved communities. Even employers are willing to expand their benefits packages to include broader remote care options. The increased adoption of Telehealth services is perhaps one of the few positive things to have come out of this healthcare crisis. With legislative and government regulatory measures supporting its wider adoption, more reimbursement packages and payment models will likely become available in the future.
The advantages of adopting remote care services are immense. With increasing patient demand, positive public perception, and legislative backing, all signs indicate that remote care will be a fundamental aspect of the industry in the years ahead.
The Rising Demand for More Convenient Options
Even with the surge in virtual care adoption, in-person visits aren't going anywhere anytime soon either. Patients instead prefer for their providers to offer both in-person and remote care visits.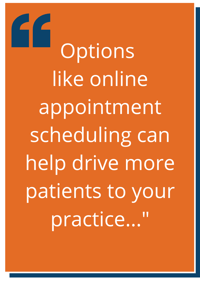 Despite being exposed to the convenience of seeing their doctor from the comfort of their own home, most patients understand that face-to-face visits still hold significant advantages in certain situations. This only shows that patient expectations of healthcare delivery are changing. They now want more options when it comes to how they can access and receive care.
Convenience is also something patients expect more from their providers than before. Your patients are just as busy as you are, and options like online appointment scheduling can help drive more patients to your practice, especially if your website allows them to book appointments outside of clinic hours.
At a time when patient visits are scarce, you want to give patients more reasons to choose your practice over others, and giving them more convenient options will make a huge difference.
Venture Out to New Frontiers
The challenges your practice faces today are unique and unprecedented. Now's the time to go out of your comfort zone and introduce new, unconventional strategies to running your practice. Things like virtual care might be unfamiliar territory for you, but it's an essential tool for your practice to thrive in this current healthcare landscape.
"In only about a day and a half we went from seeing patients to basically 90% telehealth." says Dr. Gary Baker, a pain management specialist in Southern California. "It was rocky at first, but we've been that way since last March."
Read More: Dr. Gary Baker - Serving His Country, Patients & the Medical Community
Striking a balance between virtual and in-person care will be vital in attracting new patients and encouraging existing ones to keep coming back to your practice.
Given the healthcare industry's grim financial situation, the road to recovery will likely be slow and winding, but now's not the time to wallow in defeat. If anything, this could be the perfect opportunity to reimagine your business by adopting technological innovations and thinking outside the box.
Whether it's expanding your telehealth services or cutting costs, bouncing back from the pandemic will require a multifaceted approach.
Adapting to the New Status Quo
Beyond the financial losses, the pandemic also exposed the healthcare system's biggest flaws and vulnerabilities. One primary example of this is the growing number of uninsured individuals.
Following the Affordable Care Act and a historic low point in 2016, the number of uninsured non-elderly Americans increased for three years in a row. According to a Kaiser Family Foundation report, 10.9% or 28.9 million Americans, predominantly from low-income families and people of color, didn't have health insurance in 2019 — a number that likely increased substantially over the past 12 months.
As a response, President Biden is proposing a new "Medicare-like" option for consumers who can't afford to pay the high private insurance premiums. What does this mean for your practice? Only time will tell.
Whether it's the potential changes in payment and reimbursement models or the accelerated adoption of new technologies, the pandemic has and will continue to leave long-term and permanent changes in the medical industry. As you navigate this rapidly evolving landscape, it will be on the entire medical industry to optimize for the new and future normal.
Meditab is a medical software company that specializes in systems to support practices throughout the industry.
Share this post: on Twitter on Facebook on Google+