Should My Practice Get a Mobile EHR?
Healthcare Technology EHR Practice Management
Mobile technology is transforming healthcare before our eyes. It has changed the way providers deliver care and how patients take charge of their health. The advantages that mobile EHR software and other healthcare apps showed during the pandemic are pushing vendors and healthcare regulators to make them even better, more secure, and more efficient.
If your practice has not adopted mobile healthcare apps yet, there's no better time than today to upgrade your delivery of care. Think about the efficiency that mobile devices and apps bring to your everyday life, whether it's checking your email on the go, ordering food and groceries, transportation, mobile banking, or just the ease of old-fashioned communication. Your practice can achieve the same efficiency while providing care for your patients.
Better Clinical Decisions From Anywhere, Anytime
Allowing patients to get the care they need, whenever and wherever, is one of the greatest modern achievements in the healthcare industry. Healthcare providers can now see and diagnose patients beyond the traditional corners of the practice using just a smartphone. In the case of critical care or emergencies, EHR mobile apps are extremely useful since they allow you to stay connected to your practice and patients wherever you are. Providers can easily pull up data, exchange patient records, and make informed decisions 24/7.
With photo-sharing capabilities, you can receive and examine images and provide healthcare advice on the spot.
Remote patient monitoring devices partnered with mobile EHR apps collect medical data and send them directly to your smartphone, allowing you to oversee your patients around the clock. That allows for timely intervention and alerts in case of abnormal vital signs without the need for an office visit.
Mobile EHR apps also enable Telehealth. You can now do video consultations, prescriptions, and lab orders from anywhere in the world.
Read More: 10 Tips to Improve Your Telehealth Sessions
An Improved Patient Experience, Using Mobile Healthcare Apps
When asked about their healthcare experiences, participants in a Society of Participatory Medicine study said that a positive office visit experience includes a doctor who listens to them, shows compassion and genuine care, and explains the problem and treatment well.
Because of a mobile EHR's small size, mobility, and ease of use, providers can easily face the patient directly, maintain consistent eye contact, and give gestures to encourage communication, all while documenting the visit. While small gestures, all contribute to the overall goal of improving patient communication.
Features like smartphone-enabled speech-to-text allow an even more personal interaction since providers don't need to do anything else on the app aside from hitting the record button.
In fact, one study shows that the use of tablets in the exam room is perceived positively by most patients.
A Mobile EHR Enables Patients to Take Charge of Their Health
Mobile EHRs partnered with patient engagement apps allow patients to access their medical information and easily communicate with their provider. Having their medical information at their fingertips can help patients be involved in their treatment, feel more connected to the provider, and improve health outcomes.
Mobile EHRs with self-check-in capabilities can help automate the check-in process and shorten patient wait times. Patients can check-in themselves, sign the needed forms, and update their information without the traditional line winding its way from your front desk.
Prevent Administrative Task Pile-up with an EHR Mobile App
One of the biggest challenges in the healthcare industry is physician burnout. According to a MedScape report on burnout, depression, and suicide, bureaucratic tasks like charting and paperwork are the most significant contributing factors. Due to the inefficiency of some EHRs, providers can only work on documentation after the appointment takes place, allowing administrative tasks to pile up. Additionally, the longer the time between the patient encounter and when the provider writes the visit note, the more likely it is for the provider to forget critical details.
With an EHR in the palm of your hand, the entire process is smoother.
Read More: Medical Office Inefficiency: The Silent Enemy of Patient Care
Additionally, mobile EHRs can help providers approve prescription refill requests, sign pending documents, and view faxes throughout the day, eliminating more administrative tasks that can pile up at the end of the day. With a mobile EHR app, providers can use brief periods of empty time, perhaps in between scheduled visits, to easily do these tasks.
Maintain Communication with Your Care Team While on the Go
In case healthcare providers need to visit multiple office locations, not only do they need to be mobile themselves, but they would need to be able to communicate and coordinate with their care team from different locations. With mobile healthcare apps, you can still communicate with your care team while you're on the go, allowing you to be productive in and out of the office.
Through mobile EHR software, providers can consult with another provider about a patient, quickly send a referral and help get the patient the treatment they deserve without being tied down to a desktop computer. No need to carry a laptop wherever you go or track down a desktop computer to communicate with other providers.
It's Time to Think Mobile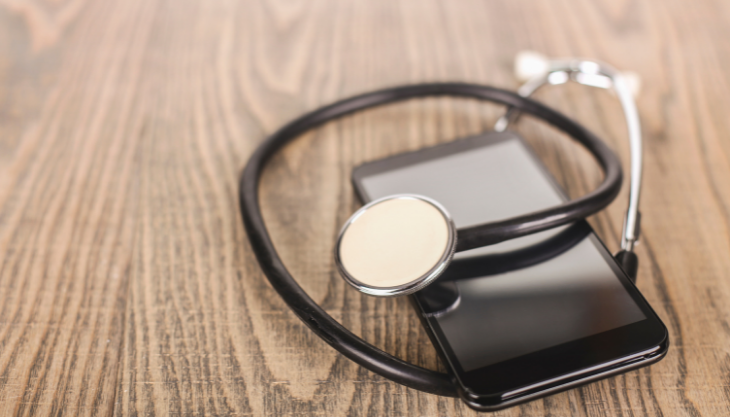 Patient needs and healthcare regulations are constantly changing, and mobile healthcare technology has already proved itself useful in a crisis. Adopting mobile healthcare apps is the best way you can future-proof your practice.
Your front desk staff can benefit from the ease-of-use mobile healthcare apps offer while attending to a patient. Administrators and managers can run financial and performance reports without the need to open desktop software. IT personnel would be delighted to know how easy it is to set up a healthcare app rather than setting up a laptop or another desktop. Everyone in your practice can benefit from a mobile EHR software.
With over 400,000 healthcare apps to choose from, it can be overwhelming to choose one. However, the best mobile EHR should easily fit and adapt to your workflow and address your practice's needs.
IMSGo, Meditab's mobile EHR app, gives you the flexibility to attend to your patients wherever you are. With unparalleled accessibility, IMSGo allows you to be always on top of your patient's needs while allowing you to transition between work and life seamlessly. With real-time syncing with your EHR, patient information is always up to date, helping you make better clinical decisions, all while being 100% HIPAA compliant.
Share this post: on Twitter on Facebook on Google+