Dr. Patel: Finding Balance Between Business, Happiness & Patient Care
Physician Well-Being Provider of the Month Primary Care
Being a full-time doctor is already a tough job, but to run a multi-location practice at the same time is a different story altogether. Very few have mastered that balancing act better than Dr. Tushar Patel of the Children's Medical Centers (CMC) of Fresno.
With three locations across the city, CMC Fresno serves the region's underprivileged population. "We opened up locations in the downtown area — the quote, unquote, underserved parts of Fresno," says Patel. "We felt that we had a lot that we could offer. We also felt that the clientele would jive with who we are. We're pretty laid back, easygoing, chill people, and we wanted a patient base that would be comfortable with that type of approach."
Famed for its sprawling farmlands and expansive orchards, Fresno, California is a blend of an urban metropolis and a quaint city atmosphere. Located in the southern reaches of California's Central Valley, Fresno is home to a diverse population of roughly 430,000 people, making it one of the larger cities in the area.
"Fresno obviously is a melting pot," Patel says "There's a big migrant population here. The Central Valley, in general, is the food basket, I'd say, not only for California but for the United States as a whole."
Fresno Is Home
Born and raised in East Africa, Dr. Patel has seen and experienced places around the world, but he eventually made Fresno his home. "I was born in Mbale, Uganda but was raised in Nairobi, Kenya," he says. "And then from there, we moved to India for a couple of years. And then from India to England for another couple of years. In 1976, that's when we came to the United States."
A family man before anything else, Dr. Patel found Fresno to be the ideal place to lay down roots. "The first time I ever set foot in Fresno was when I was interviewing for my pediatric residency. I kind of heard of it before, but I didn't know what it was all about. I later realized that this town would actually be a perfect environment to raise a new family," he recalls.
"That's what drew me to Fresno; the size and the proximity to the big cities and to the national parks. So I felt that the location was ideal. It's away from the hustle and bustle of the big cities like Carmel and Monterey, but not very far that they're no longer accessible. That's why my wife and I fell in love with this city."
A Calling to Serve the Underserved
After his father talked him out of his childhood dream of being an aeronautical engineer, Dr. Patel got into medicine not knowing that the profession will actually take him to even greater heights. "My dad told me that there's not much money to be made in aeronautics. So I tried out medicine and it was the best decision I ever made because I fell in love with it."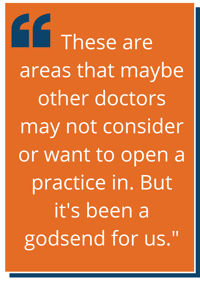 A practicing physician for more than 20 years, Dr. Patel admits that his initial motivation for becoming a doctor was not for the most ideal reasons. However, he eventually developed a deeper sense of purpose in medicine. "Dr. Tejinder Randhawa and I opened up these clinics in order to serve the underserved patients in Fresno that really needed quality care," he explains. "There are plenty of migrant workers that come in. They essentially rely on, depend on, and trust their caregivers. In the locations that we serve, our patients are predominantly from the minority groups."
"I think we've found that perfect mix, or that harmony, in having our locations where they are, which are in downtown. These are areas that maybe other doctors may not consider or want to open a practice in. But it's been a godsend for us," Patel says. "We had several offers to open a practice in the so-called north part of Fresno, which is the upscale area, but we just didn't feel comfortable because that wasn't us."
It's All About Striking a Balance
A father, husband, doctor, and businessman all at the same time, Dr. Patel wears many hats. Despite the many responsibilities he juggles, he always strives to make time for the most important things in life. "The biggest challenge is balance. I think it's vital to find a balance between your family life and your professional life. While it's really important to be dedicated and committed to your profession, you can't be devoured by it. And I think finding that balance is key," he advises.
Before becoming a pediatrician, Dr. Patel admits he made a number of missteps before finally realigning his priorities. The lessons he's drawn from those mistakes, though, have guided him throughout his entire career. "As you get older, you get these AHA! moments. And the AHA! moment for me was realizing that everything I'd done in life so far only revolved around myself. I never took my family into consideration. I had to strike a balance between my career and my family, but at that point, I wasn't balancing at all."
Making Hard Choices
Like many young, impressionable students, Dr. Patel used to be unsure about what area of medicine he wanted to pursue. "While I was studying medicine in India, I found that everybody loves cardiology. So I got sucked into that," he jokingly admits. "But then I realized that I actually liked neonatology. I had a fascination with premature babies and everything that has to do with newborns."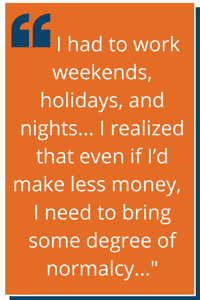 Eventually, though, Patel realized that wasn't exactly what he was looking for either. "In order to be a neonatologist you have to get into pediatric residency first, because that's a fellowship," he explains. "But when I joined the pediatric residency, I realized that neonatologists usually have more hectic schedules than most. So I asked myself 'What's a good balance?'"
"I decided to go into emergency medicine for my pediatric residency. That's how I ended up at the Ohio State University and the Nationwide Children's Hospital where I did my ER fellowship for three years."
After a fruitful ER stint, Dr. Patel was once again back to the drawing board. Torn between earning more and having more time for his family, he went back to what he does best — finding balance. "In the ER, I had to work weekends, holidays, and nights — it was all over the place," he says. "That's when I realized that even if I'd make less money, I need to bring some degree of normalcy into my life and my family. That's why I decided to get into primary care pediatrics."
"My transition into primary care was nerve-wracking because I didn't know what to expect. But at the same time, it felt really good that I was able to come home at a regular time, eat dinner with my family, and actually have a life."
Read More: The Best Practices to Avoid Physician Burnout
Despite the initial challenges and feelings of apprehension, Dr. Patel's confident he made the right choice. "When you balance things out, at the end of the day, it's always peace of mind that prevails. And that won the day. That's what I felt when I made the transition. And that's why it was a winner."
Even the Pandemic Was a Balancing Act
Like most practices across the country, the pandemic also caught Dr. Patel and his practice off guard. However, thanks to a tech-savvy staff, they were able to quickly adapt to remote care without much complication. "It was a seamless transition. We leveraged technology to the advantage of my patients, and my staff," he says. "We all had to fast forward five years and accelerate the adoption of remote care."
While his staff had the skills and technical know-how to go fully remote, the process didn't come without challenges. "We had an instance where one of our employees became COVID positive in the first or second week of March 2020. There weren't any real protocols yet at that time," Patel recalls. "The moment we found out, I had to close the practice down and get everybody tested right away. While waiting for the results we went ahead and handed out laptops. We basically leveraged IMS, the voiceover IP phones, and came up with a workflow."
Read More: 10 Tips to Improve Your Telehealth Sessions
Just when Patel thought everything was going smoothly, he was faced with an unexpected and startling predicament. "This was such an eye-opener. So you'd assume that when you hand a laptop over to someone that everything's good to go. But when 30 to 40% of your staff say that they don't have an internet connection at home, that's when I realized that everything I take for granted in life, including my internet, is unaffordable to a lot of people out there."
"That really made me rethink a lot of things. I had to redeploy the laptops with different people. I had to get hotspots, so those folks could use the laptops from their homes."
Happiness Is Life's Ultimate Success
A man who practices what he preaches, Dr. Patel always leads by example. "One of the guiding principles of our practice is that lifestyle trumps everything else. And I have an amazing business partner in Dr. Randhawa who also feels the same way," he says proudly. "We try as much as we can to put that at the forefront of every decision we make in the practice."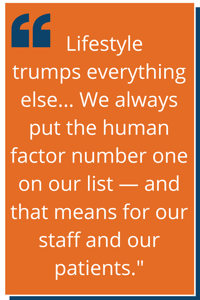 "That doesn't mean that we're not shrewd businessmen, because we are. But we always put the human factor number one on our list — and that means for our staff and our patients."
Patel is a trusted physician, a respected businessman, and a beloved husband and father. But to him, success is not defined by accolades or material wealth. "Success in this day and age usually equates to monetary gains or how many locations you have or how big your practice is," he explains. "It's really easy to get caught up in all that. But for me, success can be defined in many different ways. This may sound like a cliché, but are you happy at the end of the day with what you did at work or at home? That's what matters most to me."
"You could have a practice with 500 patients or a practice that has 5000. Who's happier at the end of the day is more successful in life."
Want to Read About More Inspirational Providers?
Check Out Our Previous Provider of the Month: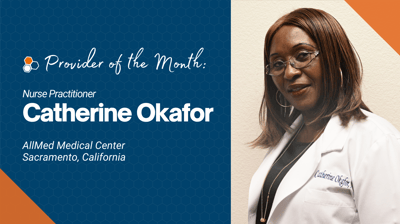 Meditab is a software company devoted to supporting practices and providers throughout the medical industry.
Share this post: on Twitter on Facebook on Google+