Catherine Okafor: Rethinking the Role of Communication in Patient Care
Patient Engagement Community Health Provider of the Month
"To care for somebody, you need to be able to understand them. And to understand them, you need to communicate. That way you'll be able to deliver the care they need," says Catherine Okafor, a nurse practitioner at AllMed Medical Center in Sacramento, CA.
Nestled in the middle of Northern California, Sacramento is far from the state's largest city, but the California capital and its surrounding cities comprise a sprawling mix of urban and agricultural communities. Spread throughout the region, AllMed has seven different community clinics across the Greater Sacramento area.
A long-time resident of the region, Okafor prizes the connection the clinics have made with the underserved Sacramento community at large. "It's like a family thing. It's hard to describe but we treat each other like family. That goes for both the patients and the staff," Okafor explains.
Leveraging Her Communication Background
A true veteran in the nursing profession with nearly 30 years of experience under her belt, Okafor originally graduated with a Mass Communication degree. Despite having no initial medical experience, she has built a nursing career that is truly worth emulating. "I've been nursing since 1992 until now. Every tiny element of nursing — every side of it, I have touched."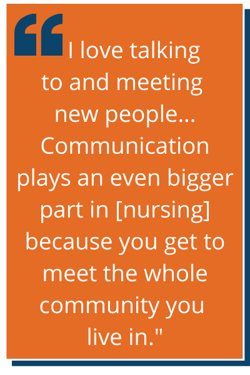 Originally born in Nigeria, Okafor came to the U.S. not expecting to become a nurse. "I came to America when I was still a teenager, right after high school. I came here to study. As a child, my family wanted me to get into the medical field, but I never thought it was for me because I was scared of blood," she jokingly admits.
"So I went to college and pursued a different degree altogether. However, after graduating, I was having trouble finding a job. So a friend of mine suggested that we go to nursing school. That's how it all began."
In nursing, she found an unlikely path to pursue her passion for communication and interacting with people. "I love talking to and meeting new people. There are so many avenues to talk to and mingle with people, and I found that nursing is one of them. Communication plays an even bigger part in it because you get to meet the whole community you live in."
Not one to shy away from casual chats, Okafor knows how to make patients feel comfortable and heard. "Even now, when I go to the grocery store, I still run into some of my patients," she laughs. "They would run up to me and say 'Nurse! You took care of me before and I was so pleased with your service.'"
For the Love of Making Meaningful Connections
A fundamental part of patient care, provider-patient communication takes precedence in Okafor's day-to-day. "My biggest joy is when a patient comes back and thanks me for making them understand what they have to do."
Communicating with patients is just one of her many roles as a nurse practitioner, but Okafor sees it as a catalyst for everything else. "I always tell my patients that the easiest thing to do is to write you a prescription. However, the hardest part is to educate you about why you're taking that medicine, and why you need to continue taking it."
Okafor believes that you can achieve optimum care when patients understand the role they have to play. "With some of my patients, compliance is the biggest problem."
Beyond making connections, she uses her impeccable interpersonal skills to encourage her patients to be more proactive and involved in managing their care. "I tell my patients that I hold myself accountable for their care but I hold them accountable for it as well. I'll do my part. You do your part, and together we can make you better," she explains. "I give my patients the numbers — a before and after comparison. It gives them joy and it makes them feel like they're participating."
Read More: Don't Miss the Potential of Apps for Patient Engagement
With nothing but her patients' best interest in mind, Okafor often adopts a straightforward, no-nonsense approach when talking to them. "I had a patient who wanted to bring his A1c levels down, and I told him 'Listen, my job is only 1% while yours is 110%. So you have a bigger job to do. But if we work together, we can achieve something,'" she recalls.
Dispelling Patient Fears and Misconceptions About COVID-19
Even as the world faced fear and panic alongside the disease itself, Okafor's ability to communicate and reassure her patients has proved to be a vital tool throughout the pandemic. "The panic and fear are still there. It hasn't really subsided. It's really challenging because it's hard to do something when you're so afraid not just for yourself, but also for your colleagues and your family," she says.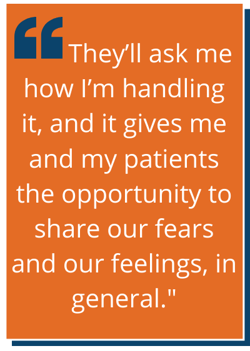 "But it gives you something to relate to with your patients. They'll ask me how I'm handling it, and it gives me and my patients the opportunity to share our fears and our feelings, in general."
Especially during the height of the pandemic when information about COVID-19 was still limited and people were confused, Okafor knew that her advice would be critical for her patients' safety and peace of mind. "Some people were ordered to do blood work to test for COVID-19. One of my patients did the blood work and the result came out negative. So I told her that it's a false result. 'You need to get the swab test,'" Okafor recalls. "Surely, she did the nose swab and she was positive."
"When they hear my point of view as a provider, it helps them understand," she explains. Knowing full well that her patients look to her for advice and reassurance, Okafor simply speaks her mind. "There are so many 'how comes,' but nobody really has all the answers. So I just told my patients to forget about politics. Everybody is new to this. We've never had this before, so we are all learning."
Dealing With the Pandemic Stress
To say that the past year has been stressful would be an understatement, especially for frontline healthcare workers like Ms. Okafor. "Well, 2020 is not something I think anybody wants to remember. I know so many colleagues who work in the hospital who contracted COVID-19 from taking care of patients," she says. "There's fear every day and I'm still living with it."
For Okafor, learning to adapt and live with the situation was key in coping with the pandemic-caused stress. Since the lockdowns kept her from doing her usual activities, she got creative.
Read More: Ways to Identify and Cope With Pandemic-Caused Stress
"There's no one way to deal with the pandemic, so I just keep myself busy. Since I can't go to the gym, I use my neighborhood to go on a two-and-a-half-hour walk or jog. I do that every weekend to keep myself physically active so I don't just sit down and worry about the pandemic," she quips. "I even have one room in my house that I converted into a home gym so I can still feel that gym vibe. I closed the windows and installed speakers, and that's where I do my zumba and kickboxing."
Take Time to Listen
Throughout her entire career, Okafor has wholeheartedly believed that there's so much more to patient care than just documenting complaints and making a diagnosis or treatment plan after. "There's also the cultural aspect. It plays a part in how patients respond to medical care," she explains.
"America is a melting pot of so many different cultures. And whether you agree with it or not, you really have to see everybody from their cultural backgrounds because it has so much impact on their care."
Having studied mass communication before getting into nursing, Okafor understands that effective communication is a two-way street. "First and foremost, hear your patients out. See where they're coming from and then lead them into the right direction," she advises.
If there's one thing she would like other providers to learn from her 30 years of nursing experience, it's that quality care starts with your genuine desire to listen.
Want to Read About More Inspirational Providers?
Check Out Our Previous Provider of the Month: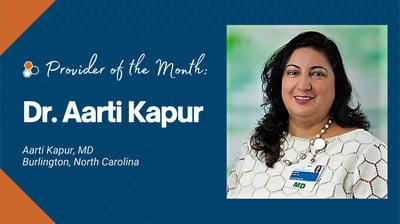 Meditab is a software company devoted to supporting practices and providers throughout the medical industry.
Share this post: on Twitter on Facebook on Google+