What is a Practice Management System & How Do You Pick the Right One?
Healthcare Technology Office Management Practice Management
Before practice management systems, healthcare front desk staff spent hours on the phone to remind patients about upcoming appointments and wasted endless hours on the line for a payer representative to verify insurance coverage. Patients waited in long lines at the front desk to sign consent forms, and checking in took forever. Providers didn't see payments for a year due to the manual processing of claims. Luckily, those days are behind us.
Businesses today can't survive without some sort of software to run their day-to-day tasks. A practice management system helps healthcare practices manage all their moving parts and provide more efficient patient care.
What is Practice Management?
Practice management is the management of the business aspects of a medical practice. It encompasses all the activities of running a practice that are not clinical. These include tasks under finance, information technology, compliance, operations, human resources, marketing and more.
What is a Practice Management System?
A practice management system (PMS), sometimes referred to as practice management software, is a software program that helps run the business activities of a healthcare practice. A PMS manages the day-to-day operations of a medical office, such as organizing administrative tasks, managing patient appointments, entering patient demographics, collecting patient payments, processing insurance claims, and generating practice reports.
Examples of Practice Management Tasks and How a PMS Helps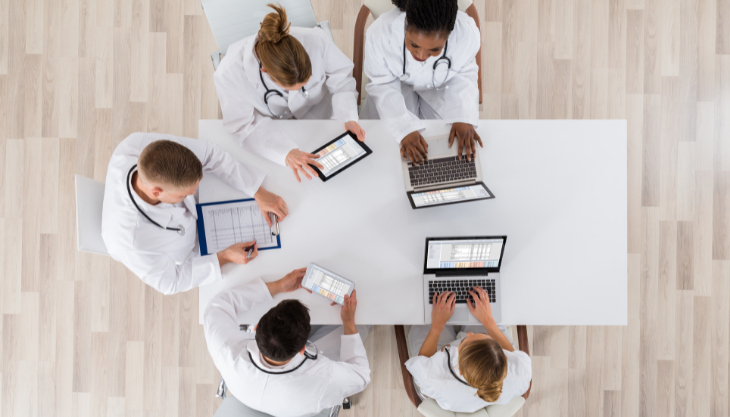 Practice management software gathers all administrative, financial, and non-clinical tasks together and delivers them in one convenient package. Below are several examples of practice management tasks and how a PMS can help improve their performance.
Patient Scheduling
Patient appointments are the financial lifeblood of a practice. Any disruption or inefficiency in patient scheduling cascades down towards your bottom line. Last-minute patient cancellations and unplanned provider events cause disarray for the patient's and provider's day. A practice management system helps manage all patient appointments, whether you're a single provider clinic or a multi-provider clinic with several locations. Rather than writing patient appointments on paper and figuring out which provider is available for the selected time slot, a PMS provides a comprehensive view of the provider's schedule and available time slots. It automates and streamlines the scheduling process to help improve the patient experience and boost practice efficiency.
Most practice management systems today have an integrated online booking system to allow patients to book appointments 24/7. Patients can also cancel or reschedule their own appointments, freeing up your staff's time. Waitlist features in a PMS prevent canceled timeslots from going to waste. Instead, front desk staff can quickly call patients who initially preferred the canceled time slot and fill it in.
Read More: Benefits of Direct Scheduling: How Online Appointment Booking Gets You More Patients
Medical Billing
Practice management software simplifies the financial activities of your practice. It automates billing-related tasks, from capturing insurance information to collecting patient payments. With a PMS, your front desk can send eligibility verification requests in one click without long telephone wait times. At the time of visit, a PMS allows front desk staff to process copays and deductibles and post them against the patient's balance.
If integrated with an EHR, a practice management system helps reduce billing errors and increases productivity. Built-in claims scrubbing features allow you to submit clean claims. As with all electronic systems, processing claims and getting paid is faster with a PMS. Integration with a payment processing solution provides convenience for your patients and reduces the payment collection workload for your staff. Because it helps you with almost all of your billing functions, a PMS enables you to track your revenue and compare it to different periods.
Needless to say, practice management software with a medical billing feature is an essential part of a practice's revenue cycle management.
Read More: 5 Ways to Improve Patient Collections
Practice Analytics
Since a PMS captures various data about your daily operations, it can, in turn, give you a comprehensive view of your practice. Data derived from your PMS provides information on which segments of your practice are doing well and where you can improve. You can easily compare the performance of your providers, discover where your patients are coming from, track MIPS reporting measures, and more. With a practice management system, you can effortlessly monitor, diagnose, and treat the business health of your practice.
Organizing Patient Data
Gone are the days when patient record storage occupied large rooms and finding a single patient record could turn into a cumbersome slog. Practice management software allows you to store patient data in a digital, highly organized, and secure manner. With digital records, you can look up a patient from anywhere without leaving your chair. A few clicks reveals all the required patient information. A PMS keeps patient demographics, billing information, appointments, authorization, and referrals in a single digital file.
Task Management
A practice management system not only helps you manage patient information but it can also assist you in managing your staff and administrative tasks. Some systems allow you to create weekly or monthly work schedules, assign tasks to your staff members, and set reminders and alerts for these tasks.
Patient Communication
Practice management systems improve provider-patient relationships. A PMS with an integrated patient portal or app allows patients to send secure messages to their providers. It reduces staff's patient outreach workload by automating appointment reminders, generating intake forms before an appointment, and building customizable letters. Through a PMS, you can share educational resources with patients to increase engagement.
A PMS can also help with your marketing efforts. Today, most practice management systems have lead generation tools to help you capture and follow up on leads.
Read More: Catherine Okafor: Rethinking the Role of Communication in Patient Care
How Do You Choose the Best Practice Management Software For Your Needs?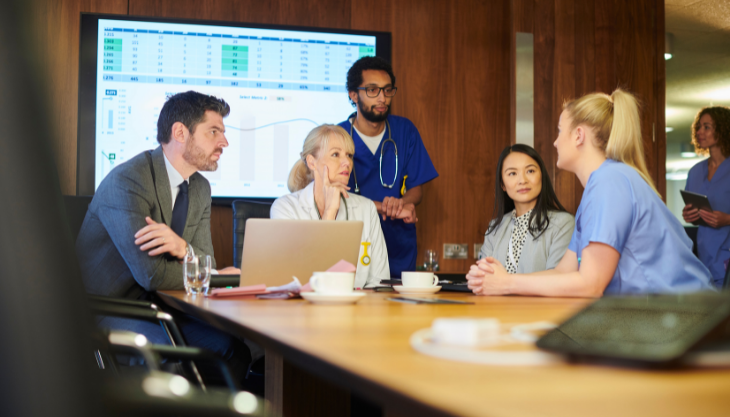 Not all practice management systems are created equal, and finding the best one can be complicated. Choose a platform that supports your specialty's workflow and addresses your pain points. An EHR-integrated practice management system gives you the added benefit of seamless access to a patient's clinical data while carrying out practice management tasks. It saves your staff time, expedites clinical processes, increases productivity, and more.
Meditab's flagship solution, IMS, allows you to manage and grow your practice and patients in one place without the hassle of maintaining multiple software systems. As an all-in-one EHR, practice management, and office management system, you'll have everything you need, from booking appointments to billing claims, on a single platform.
Share this post: on Twitter on Facebook on Google+