Everything You Need to Know About IMS Patient App & CarePortal
Healthcare Technology Patient Engagement mHealth
Patient engagement leads to better health outcomes. Healthcare patient portals and mobile apps enhance patient engagement by enabling patients to access health information and secure patient-provider communication. First used around the late 1990s, patient portals today evolved into more than just a source of health information. Similarly, the rise of smartphones gave way to mobile apps for everything, including healthcare.
Meditab embodies this transformation through IMS Patient App and CarePortal. IMS CarePortal allows patients to access health information, schedule appointments, request refills, join a telemedicine session, pay for balances, and more. IMS Patient App is the mobile version of CarePortal and offers the same benefits. Let's take a deep dive into each feature.
Accessing Health Records
Paper handouts are easily lost and forgotten. Your practice can reinforce any information by making it available through healthcare patient portals and mobile apps. In IMS CarePortal and Patient App, you can share different types of health data, such as visit notes, treatment plans, medication instructions, lab results, prescription history, vital signs, authorization and referral status, and more. When patients know more about their health, they are more likely to adhere to treatment plans and track their health progress.
Managing and Approving Requests
In IMS Patient App and CarePortal, patients can request in-person and telemedicine appointments, medication refills, and demographic and insurance information changes. Any request automatically shows up in IMS, and staff can approve or deny it themselves or forward it to the appropriate person. Giving patients the tools to take charge of their health increases patient engagement and eliminates the need to call or schedule appointments for non-urgent concerns.
Read More: Don't Miss the Potential of Apps for Patient Engagement
Patient Statements and Payment
Patients today prefer to pay online and will likely pay within 48 hours of receiving a payment reminder. The billing feature in IMS CarePortal and Patient App enables patients to view their statements and pay their balances, allowing you to get paid faster. With Meditab's partnership with Global Payments Integrated (GPI), patients can pay with credit cards or ACH. After processing the payment, patients can view and download receipts.
Read More: 5 Ways to Improve Patient Collections
Telemedicine
Aimed at providing convenience and improving efficiency, Televisit, Meditab's telemedicine solution, allows patients to join virtual visits through IMS CarePortal or Patient App. Rather than using third-party solutions for your telemedicine needs, use a platform that your patients already know. There's no need for your patients to memorize multiple log-ins or remember various systems. Additionally, Televisit allows you to collect copays before the start of each session to ensure you get paid.
Read More: Televisit: Your Virtual Office Beyond Clinic Walls
Secure Messaging
Answering and returning phone calls takes a tremendous amount of your staff's time. The IMS CarePortal and Patient App messaging feature allows patients and your practice to exchange messages in a secure and HIPAA-compliant channel. It's a convenient way for patients to send non-urgent messages and helps reduce the volume of incoming calls. Aside from messages, patients can also capture, send, and receive photos to better communicate their concerns.
Streamlining Check-in Workflow
IMS Patient App and Care Portal streamline the check-in workflow, saving your staff and patients time. When new patients arrive for their first appointment, they spend the bulk of their time completing registration and consent forms—offering to fill these forms through IMS CarePortal before the appointment saves time and prevents crowding at the front desk.
Patients can also check themselves in by scanning a QR code or using the parking lot check-in feature for a smoother front desk workflow. The parking lot check-in feature in the Patient App eliminates crowded waiting rooms and allows patients to check in as soon as they arrive within the vicinity of the clinic. Patients can then wait in the comfort of their vehicle until the provider is ready to see them.
Upgrade Your Patient Engagement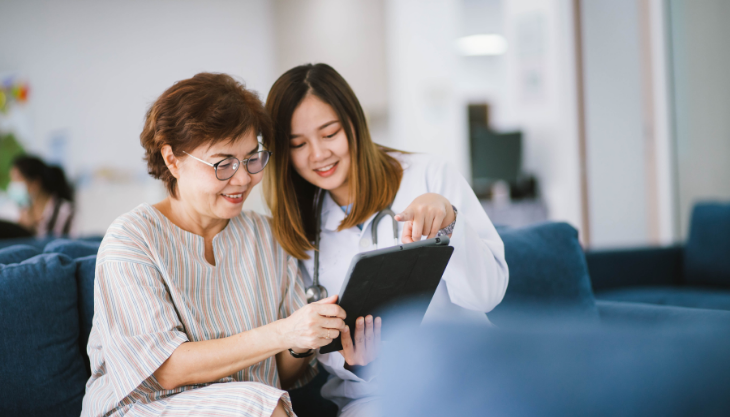 Healthcare patient apps and portals benefit your practice in numerous ways. They empower your patients, streamline your workflow, and ease the burden on your staff. If your practice hasn't introduced patient engagement tools yet, now is the best time to maximize its true potential. More than just an EHR, IMS is an ecosystem of healthcare solutions that integrates every aspect of your practice into one comprehensive solution. EHR-integrated patient engagement tools like IMS CarePortal and Patient App mean a convenient and hassle-free way of engaging patients without maintaining multiple systems.
Share this post: on Twitter on Facebook on Google+