IMS Build 31: Breakthrough Updates to Empower You to Work Smarter
Healthcare Technology EHR Meditab News
From mounting administrative burdens to system inefficiencies and increased regulations, healthcare workers face many challenges that adversely affect their quality of work and well-being. With nearly 63% of U.S. doctors experiencing some symptoms of burnout at least once per week, you must take steps to help your team work smarter and shield your practice against the physician burnout epidemic.
Recognizing the need to prioritize physician and staff well-being, Meditab rolled out IMS Build 31 with robust enhancements and innovative new features that take IMS's practice automation capabilities and usability to new heights.
Read More: EHR Checklist: 10 Questions to Ask an EHR Software Company
Conveniently Process Multiple Orders Simultaneously
The Link With functionality made processing multiple orders faster. However, providers know the struggle of manually deleting each order whenever they make a mistake, forcing them to start all over again.
IMS Build 31 now comes with Bi-Directional Link With functionality that lets you remove orders by deleting the parent question or ICD code. Save yourself and your staff from documentation burdens with IMS Build 31.
Catch Appointment Issues Before Scheduled Visits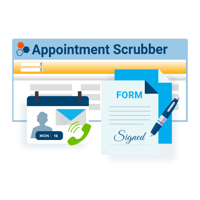 From obtaining pre-authorization, verifying insurance eligibility, and other essential prerequisites, keeping track of every appointment detail can be challenging if done manually. It's time your front-desk staff works smarter, not harder.
IMS Build 31 comes with a new Appointment Scrubber, giving you a dedicated screen to track and manage all the required tasks for every patient visit. With a bird's eye view of everything they need to complete, your front desk staff can quickly identify potential issues before a patient comes in for their visit, reducing care wait times and delays while improving patient and staff experience.
Discover a Redesigned & Improved Visit Note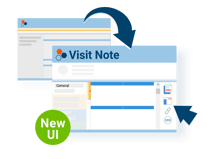 As one of the most frequently used EHR features, enhancing the Visit Note was vital to providing an improved IMS experience. Build 31 brings a revamped Visit Note with a more modern user interface for better readability and navigation.
With a functional and aesthetically superior UI design, the new-look Visit Note enhances the user experience with more straightforward icons and colors that are easier on the eyes. Experience convenient documentation features and modern UI design with IMS Build 31.
Simplify & Accelerate Your Documentation Process
Most clinicians in the U.S. consider clinical documentation burdens as a major contributor to burnout. If you want your team to work smarter, simplifying your documentation process is a great way to start.
Build 31 expedites your documentation for diagnosis and related treatment plans with a simplified Visit Note configuration. With the Assessment & Plan enhancement, you can easily add treatment plans against a diagnosis code with a click, giving you more time to focus on providing optimal patient care. Other Visit Note updates include:
Form-Based Question Template
Do you want greater flexibility in creating, editing, and managing your documents? IMS Build 31 allows you to customize your Visit Note in a form-based layout for a more convenient navigation experience.
Visit Note Dashlet View
You need easy access to certain parts of the Visit Note to expedite your documentation process. With the Visit Note Dashlet view, you can instantly view Visit Notes at a glance and edit key features, including customizing colors within the same window. Save time from scrolling through completed Visit Notes with the new Dashlet View.
Experience a Convenient Recall Management Mechanism
Missed appointments aren't just a missed income opportunity for your practice; they can also compromise patient outcomes. Never lose track of patient appointments again with a convenient recall management system.
IMS Build 31 introduces a brand new module that helps you track missed appointments and prescribed follow-up visits for recall scheduling. With automated SMS or email notification, you can send patients follow-up visit updates without the extra work.
Turn Leads Into Patients With a Lead Management Module
Tired of seeing conversion opportunities go to waste? Build 31 brings a brand new Lead Management module that consolidates data from your lead-generating channels, such as phone calls, faxes, and your practice website, into a single repository, boosting your marketing and conversion initiatives.
Read More: 5 Marketing No-Nos That Are Hurting Your Practice Growth
Many practices lose valuable prospects simply because they don't have the mechanism to track and manage leads. With Build 31, you can track leads, document follow-ups, and send automated emails and texts to prospective patients straight from your IMS EHR. Now you have practice software that empowers you to retain and acquire patients with integrated patient engagement and lead management tools.
Improve Data Management With the Upgraded MIR Screen
To work smarter, you need tools that let you do more with as little time and effort as possible. IMS Build 31 upgraded the MIR-Diagnostic Image Management feature to give you added control over sending reports as well as previewing and comparing images.
With Build 31, you can preview images from thumbnails, compare up to 8 images simultaneously, and print or send reports via email or fax, promoting faster, more efficient data management.
Make the Intelligent Choice. Work Smarter With IMS Build 31
As a tool you interact with daily, your EHR can be a powerful instrument to help your team work smarter, avoid unnecessary stress, and increase job satisfaction. That's why IMS Build 31 empowers you to do more without running yourself into the ground. After all, your practice's overall performance depends on your team's individual work.
Experience IMS's breakthrough updates! If you're already a client, you may reach out to your account manager about upgrading to Build 31. If you're new to IMS and want to see our all-in-one EHR in action, schedule a FREE demo today.
Share this post: on Twitter on Facebook on Google+