How a Practice Cut EHR Implementation Time by 80%
EHR Provider of the Month Implementation
There's a reason why 83% of data conversions go off the rails or over budget. Migrating large amounts of data from one electronic health record (EHR) system to another is a complex and time-consuming task. But for Dr. Gopal Kunta and his team at the Clermont Oncology Center (COC), their data conversion and implementation experience turned into an 18-month-long debacle.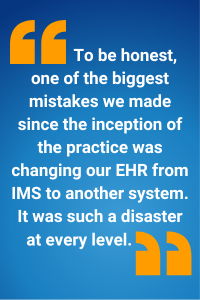 "The move to our previous EHR was a nightmare," says Kunta. "The data transfer did not happen the way we anticipated."
Despite being a satisfied, long-time user of Meditab's EHR platform, Intelligent Medical Software (IMS), Dr. Kunta wanted to introduce something new to his practice. With high hopes of getting an upgraded EHR experience, he switched to what he thought was a superior system.
Read More: EHR Shopping Checklist: 10 Questions to Ask an EHR Software Company
"To be honest, one of the biggest mistakes we made since the inception of the practice was changing our EHR from IMS to another system. It was such a disaster at every level," Kunta laments.
What is Data Conversion?
Data conversion is the process of moving EHR files from an existing platform, infrastructure, or database to a new one. Sometimes, you need to convert data from one format to another to be compatible with your new EHR software.
It may appear like a simple process, but due to the sheer amount of data that needs migrating, there are plenty of ways EHR data conversion can go wrong—an unfortunate experience the COC staff had to live with.
Get to Know Dr. Kunta & the COC Team
A 15-year veteran in the medical field, Dr. Gopal Kunta is an established medical oncologist in Florida known for his compassionate care and service. He runs the Clermont Oncology Center with his dedicated clinical and administrative team in Clermont, Florida, a small city 35 miles west of Orlando.
Located along Citrus Tower Boulevard, COC provides Clermont's 43,000 residents and neighboring areas with chemotherapy, immunotherapy, and other specialized treatments and services. With Dr. Kunta at the helm,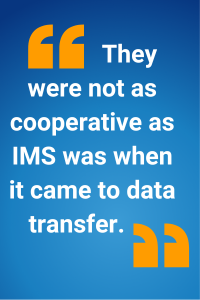 COC patients have grown to love the practice for its compassionate service and commitment to honoring patients' individuality through open and honest communication.
As a beloved healthcare organization in their community, Clermont Oncology Center has high expectations to live up to. That means they have no room for inefficiencies in their practice.
Since EHR data conversion is one of the most complicated yet critical stages of migrating to a new system, it's vital to maintain constant and clear communication with your EHR vendor. However, due to poor data conversion support, inefficiencies soon crept in, adversely affecting the entire COC team's productivity.
"We did not feel comfortable using the system even after almost six months into the transition," Kunta recalls.
Going Back to the EHR They Know & Trust
Despite his patience and efforts to make things work with their previous EHR, Dr. Kunta's frustrations grew more profound as the months passed.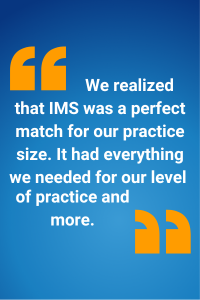 "They were not as cooperative as IMS was when it came to data transfer. We would ask for one version, and they would do it in another format," he says earnestly.
After 18 long and dreadful months of settling for lackluster software, Dr. Kunta and his team finally decided to pull the plug and switch back to the EHR they know and trust, IMS.
"We're so glad that it's now behind us. We realized that IMS was a perfect match for our practice size. It had everything we needed for our level of practice and more," says Dr. Kunta.
A Happier, More Productive Practice
Despite his positive experience with IMS, Dr. Kunta and his team couldn't help but feel on edge about switching EHRs again. Although filled with reservations, Dr. Kunta took a leap of fate back to IMS rather than settle for less than what his practice and patients deserve.
"We were extremely concerned about the move back to IMS, especially when it came to data transfer," he admits.
It wasn't long before Dr. Kunta's trepidations turned into optimism as the IMS implementation team went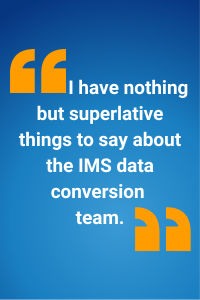 straight to work.
"From the moment we informed IMS about the move, they assigned one 'go-to-person' to resolve any issues. This person worked very efficiently, took personal interest in the move, and was there every step of the way," he explains.
As a man who puts a premium on clear communication and compassionate service, Kunta saw a night and day difference in how the IMS team handled their implementation process compared to their previous EHR.
"The communication was excellent. The data conversion team lived up to our expectations and kept their word," Kunta remarks. "I have nothing but superlative things to say about the IMS data conversion team."
An Innovative Software With Expert Support to Boot
Given the technicality and complexity of the EHR data conversion and implementation process, it's vital to have reliable, dedicated experts guide and help you from start to finish.
"I was beyond impressed with the data conversion team and their knowledge about our practice," says Dr. Kunta. "They were monumental in retrieving the data we wanted and putting it back in the charts where we can find what we are looking for."
After 25 years of providing innovative technology solutions to practices nationwide, Meditab understands that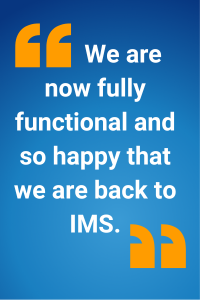 cutting-edge technology works best when complemented with excellent service—a commitment Dr. Kunta and his team saw and experienced firsthand.
"We are so happy with the entire data conversion team who worked relentlessly and understood what we wanted through the transition. They made the transfer back to IMS as smooth as possible."
Through the collaborative efforts of the IMS implementation team and Dr. Kunta's hardworking staff, Clermont Oncology Center was up and running 80% faster than with its last software company. "What took six months with our other EHR took less than six weeks for the IMS team."
"We are now fully functional and so happy that we are back to IMS. It's not just me as a physician who is happy that we are back—our entire staff is elated. More importantly, our billing team in India is on cloud nine," Dr. Kunta exclaims.
Share this post: on Twitter on Facebook on Google+