IMS Build 22: The New Standard of EHRs Is Here
In a rapidly evolving healthcare landscape, you need an EHR that keeps your practice up to speed, evolves with the latest tools, and rises to meet every new challenge. In that spirit, IMS Build 22 is one of our most extensive updates ever, delivering hundreds of improvements and an entire library of new features, including the expansion of IMS into office management.
Whether it's simplifying complex processes through automation, improving the user interface for better usability, or integrating electronic office management tools into your EHR, the next generation of IMS builds on the guiding ideal of giving practices the advantages they need in order to recover, thrive, and prepare for the future.
IMS Build 22 combines our core EHR and practice management software with the Electronic Medical Office (EMO), a full office management suite that makes both your practice's front office and backroom operations more efficient. Forget secondary systems and switching back and forth on your computer. With Build 22, both clinic processes and office and staff administration are made faster and easier.
A Big Step for Office Management
EMO introduces functionalities like IMS Caller, a call integration and management system that tracks phone calls, logs voicemail, and connects your EHR and your phone system. That integration allows for time-saving features, such as clicking-to-call with any phone number in your EHR and automatic patient lookup for incoming calls.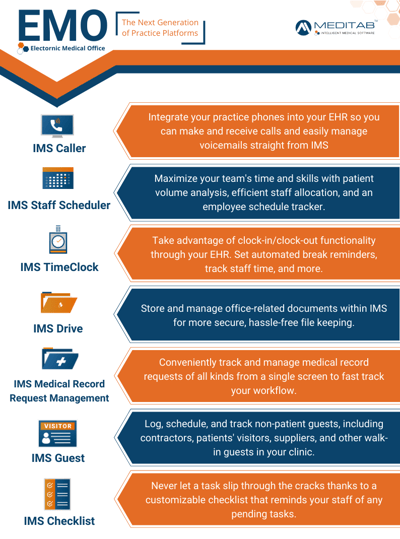 Meanwhile, IMS Guest helps maintain a record of people going in and out of the clinic, from patients' guests to contractors and suppliers. In that same spirit, expanding IMS beyond patient records, IMS Drive is a secure, searchable electronic file system for non-patient documents like contracts, licensing agreements, employee records, and more.
Speaking of employees, IMS Checklist tackles staff assignments, automatically reminding your employees about their tasks when they log in or out of IMS.
At the same time, IMS Staff Scheduler helps you easily plan and allocate staff members across multiple locations, based on patient volume. Likewise, providers can help avoid staff burnout with IMS TimeClock, a clock-in/clock-out system through IMS that includes detailed reporting and an automated reminder system for employee breaks and lunch.
Enhanced Capabilities
IMS Build 22's latest upgrades and brand new modules give "ease of use" a whole new meaning. The inspiration behind Build 22's improvements is to allow you to do more with the same amount of time and effort. One of the critical aspects of that for many IMS functions is a clutter-free interface and a more streamlined user experience. Whether it's eliminating redundancies or bringing workflows into a single screen, you can now get the job done faster, better, and easier.
Toggling between different screens and windows to manage interweaving workflows can slow down an entire practice. IMS Build 22 notably brings the Referral and Authorization modules into one screen to easily track and manage incoming and outgoing requests from one place. Having a centralized screen to manage both allows you to speed up your process without the hassle of multiple opened windows.
The same theme continues with the Rx Management function, where you can now see all patient medications, assign tasks, and prioritize patient needs on a single screen.
To keep things running smoothly, a new video library also lets you view "how-to" videos for each IMS module with no additional log-ins or platforms. Just click on the "Help" icon while you're logged into your IMS system to view them.
New Features for the Patient App
The past year has skyrocketed patient adoption rates when it comes to mobile and remote tools. To help practices keep up, we're adding a range of new functions to IMS Patient App, including contactless check-in.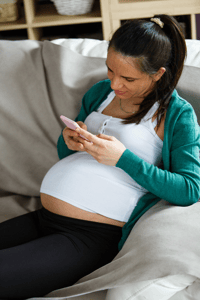 Using GPS technology and location services on your patients' phones, they can now check-in through the patient app as soon as they arrive, even while sitting in the parking lot.
To improve the overall Patient App experience even more, Build 22 also introduces custom-branded patient apps. Developing a strong brand is crucial to your practice's overall growth. Distinguish yourself from competitors and streamline the patient journey with your own unique app on the Apple App Store and Google Play Store.
Complete with your practice's name and logo, your custom app, built on the IMS Patient App framework, is more recognizable and easier to find for your patients. Custom apps also no longer require a practice ID, so all patients have to do is log-in.
New Functionality for Fertility Practices
Infertility is a common and ongoing struggle across the country, and seismic shifts are happening in the IVF and fertility field.
Build 22 brings a range of enhancements to the fertility-specialty version of IMS, FertilityEHR. Upload registry files directly to CDC NASS or SART for a streamlined reporting process. Practices can also conveniently record past pregnancies with new tools, such as automatic calculation for the patient's Gravida-Para count.
Likewise, using the Antepartum Record module, mother and child conditions are trackable throughout the pregnancy, with medications taken, physical exams, vital signs, and more.
A Refined EHR Means a More Efficient Practice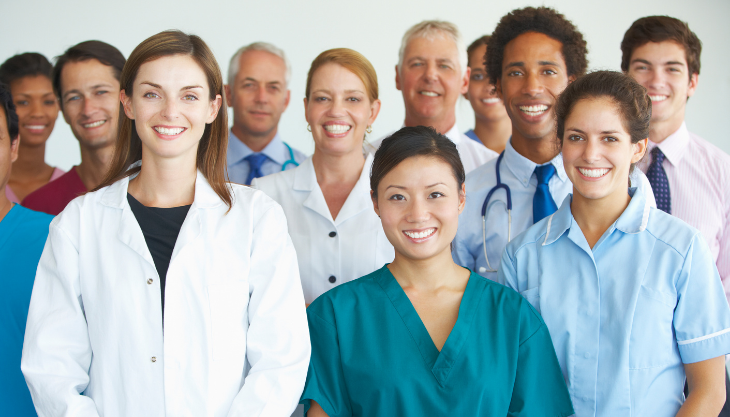 Established for providers, by providers, Meditab continues to build on an already robust platform to bring practices the most cutting-edge, forward-thinking iteration of IMS yet.
From the system upgrades and interface enhancements to the brand new electronic office management modules, IMS Build 22 includes more than 100 different enhancements and helps practices like yours take on new challenges with confidence. Even as you navigate these difficult times, you can rest assured that your practice is always a step ahead with IMS.
If you're already a client, reach out to your Account Manager to learn more about updating to Build 22. If you're new to IMS and would like to see Build 22 in action, schedule a free demo today!
Share this post: on Twitter on Facebook on Google+