Dr. David Kirn: Proving That There's Beauty in New Beginnings
Plastic Surgery CosmetiSuite Provider of the Month
Comfort, as they say, is the enemy of growth—a mantra Dr. David Kirn of Kirn Plastic Surgery Center embodies.
"So, when I initially started, I joined a fellow who was already in practice for 20 plus years at that point. He and I practiced together for 13 or 14 years," Kirn recalls.
Completely aware of what he was giving up, Kirn made a bold move in 2011 that paved the way for the success he enjoys today.
"Because a building I wanted became available, he and I eventually parted ways, and I started my own practice as a solo venture," Kirn explains. "It wasn't because of discord that we did that—it was purely because of real estate. And I didn't necessarily have a goal to be a solo practitioner either. It just was the way it worked out," he added.
A Challenging New Beginning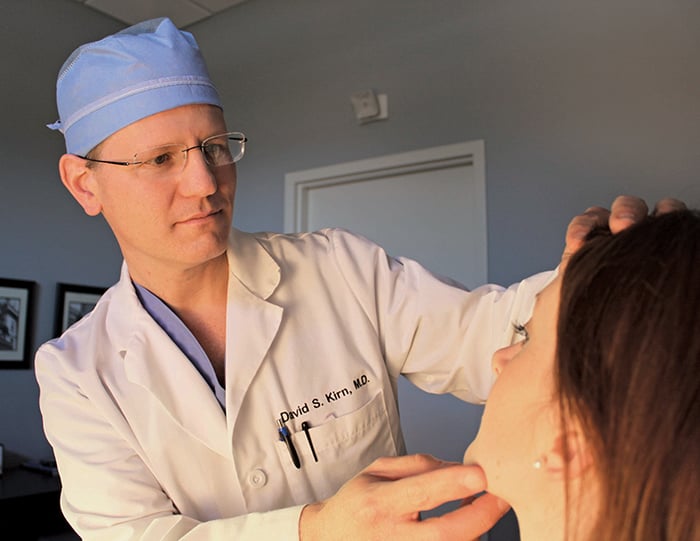 Photo via The Lane Report
Although it's hard to tell from looking at his practice today, Kirn's path to success was never linear. "When I separated from my partner and went solo, that, by far, has been the most challenging component of my career," he admits.
"And it's not related to medicine per se. It's just related to the business of medicine. And nationwide, you know, there are very few solo practitioners these days," he elaborates.
The complicated nature of cosmetic billing, payments, and reimbursement processing didn't make things any easier.
"If you're doing cosmetic stuff, it's the patients that are paying you, not insurance companies. So economics is quite different for us," he says.
Read More: What to Look For in a Medical Billing Software
As expected from any new venture, the early days of his practice revolved around logistics and tedious admin work.
"We had to set up a new office, fit up the new building, and hire new people," he says. "This happened to be during the big recession. So things weren't so great in 2010 when I was doing all of this."
Making Patient Satisfaction a Priority
Located in Lexington, Kentucky, Kirn Plastic Surgery Center offers a wide range of surgical and non-surgical cosmetic services. As the practice's head surgeon, Kirn himself performs all surgical procedures while his team of in-house, board-certified nurses do the injections.
Read More: Why is a Healthcare CRM System Necessary for Cosmetic Practices?
With a special focus on minimally invasive procedures, Dr. Kirn strives to shorten recovery time while providing the highest quality of care and results possible.
"We have a very high patient retention rate. A lot of people who have been with us for many years come back," he says proudly. "To me, that's evidence that they have been satisfied with the way we've treated them and what we've done."
A principled professional through and through, Kirn's uncompromising patient-first approach made his practice a household name among Lexington residents who wish to enhance their physical appearance.
"Well, it's not any different than just being a good doctor. Do the right thing for your patient. Always put the patient first and do the right thing for them," he says with conviction. "It doesn't matter whether you're doing plastic surgery, family practice, or cardiology."
A Passion For Making Things Look Beautiful
Having no one else in his family in the medical field, Kirn found his inspiration to become a doctor from a next-door couple who were both physicians—the husband a surgeon and the wife an OB-GYN.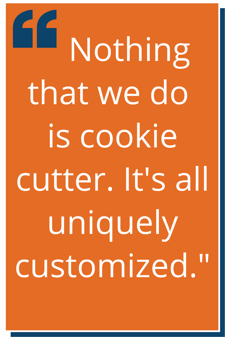 "I love to work with my hands, and I thought, 'Well, being a surgeon would be okay.' And that's what got me interested in the beginning."
Like many of the curve balls life has thrown at him, Dr. Kirn also didn't expect to be specializing in cosmetic surgery.
"I think it was in between the second and third year of medical school. I took a job as a computer programmer for the division of plastic surgery and I completely fell in love with it," Kirn recalls. "Prior to that, I was planning to be a general surgeon."
Even though he discovered his interest in cosmetic surgery late, Kirn's passion for creating beauty is deeply rooted. "It's exactly what I like to do because it's all about making things look right and crafting them the way you want. It's like designing customized plans for each patient," he explains. "Nothing that we do is cookie cutter. It's all uniquely customized."
Bouncing Back From the Pandemic
The pandemic hit independent practices across the country hard, and Dr. Kirn's practice was no exception. With government mandates banning elective surgery, Kirn had to postpone all the surgical procedures he had lined up.
"So here in Kentucky, we were blocked from doing outpatient surgery for a couple of months in the spring of 2020. And of course, you know, we scheduled quite a ways in advance," Kirn laments.
But in a surprising turn of events, his practice's recovery came at an unexpectedly rapid pace.
"I assumed that things would be slow when we got back. But it's been the opposite. We've been way busier since COVID."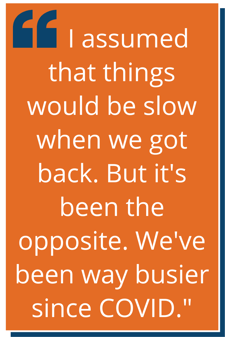 Known as the plastic surgery boom, appointments for cosmetic procedures, both surgical and non-surgical, surged shortly after COVID-19 restrictions loosened.
Read More: Zoom-Boom? It's Time to Give Your Practice Marketing a Facelift
"So we were up like 30% the following year, and then up again 20% the subsequent year. We've been overwhelmed with patients, actually," Kirn admits.
While this may be a good problem to have, dealing with the sudden influx of patients poses a myriad of administrative challenges.
"It has really put the pressure on us to try and run our schedule as efficiently as possible," says Kirn.
Having a consistently fully booked schedule can also spur other problems, like higher no-show rates.
"Minimizing no-shows, too—that's the other thing. Now it's a real travesty if you've got an hour blocked for a consultation and that person doesn't show up. There are 75 other people on the waiting list that would want that spot," Kirn explains.
To ensure that patients show up for their appointments, Kirn leveraged technology to make patient engagement more efficient.
"We've done a lot more with sending patients text messages for appointment reminders and those kinds of things. It has really driven that one home for us."
It's Always About the Patient
For Dr. Kirn, the practice of medicine is always all about the patient.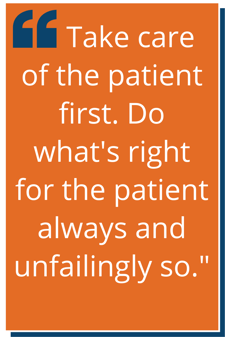 While it may be an oversimplification of an otherwise complex field, sticking to this patient-first approach has been the guiding principle in his over two decades of medical practice.
"'What does it take to be a good doctor?' Take care of the patient first. Do what's right for the patient always and unfailingly so," Kirn advises.
Thankfully, he never had a shortage of role models who further instilled this principle in him.
"My former partner always had the patient's best interest at heart, and it was really endearing to see that and what that means over time," he says.
For everything he has accomplished, and the obstacles he has conquered, Kirn remains rooted in his purpose: creating beauty through medicine.
"At the end of the day, it's you and the patient, and you gotta do the right thing for them. Whatever it is."
Share this post: on Twitter on Facebook on Google+