Why Dental EHR Software Is a Necessity for Dental Practices
Healthcare Technology EHR Dental
It's no secret the adoption of EHRs in dental practices has been slower compared to other healthcare specialties. Unlike the medical field, dental providers are largely not mandated to use EHRs, and most don't see enough Medicare patients to qualify for MIPS. Even without regulatory incentives to adopt an EHR, though, there are numerous benefits that an EHR brings to dental practices.
What Is Dental EHR Software?
Most dental practices have a type of dental EMR software for record-keeping, charting, and scheduling patients, but then also maintain another software for imaging and administrative tasks. On the other hand, a dental EHR has all the features of an EMR, plus integrated imaging features, practice management tools, and various built-in tools for better decision-making.
Read More: What's the Difference Between an EHR and EMR?
Why Is It Important for Dental Practices to Adopt an EHR?
With the dental industry an essential part of holistic patient care, dental providers shouldn't miss the advantages EHRs provide. In this digital age, EHRs are no longer an option, but a necessity, providing for the continuity of care and helping you run a successful business. That's just the beginning. Beyond that, here are even more things an EHR can do for your practice:
1. Allows for Better Coordination with a Patient's Medical Provider
Oral and medical health are intertwined. Oral problems can be the first signs of a much more significant health issue, infections, or nutritional deficiencies, meaning the need for a seamless data exchange between the two disciplines is vital. EHRs are designed to be interoperable so dental and medical providers can easily exchange medical history and better assess patients' needs. Built-in tools such as Health Information Exchange (HIE) allow real-time data sharing and faster decision-making.
In comparison, illegible handwriting and inconsistencies in paper charts can result in discrepancies, preventing efficient care management, and other dental software is not built for easy sharing, which only delays delivery of care.
2. Improves Efficiency and Productivity
Dental EHRs help dental practices achieve more in less time. Even before a patient comes in, your staff can check insurance eligibility and ask for medical history, current medications, or current health problems. With that information on hand already, you can decrease patient waiting time without sacrificing a patient-centered approach.
Additionally, dental and periodontal charting in EHRs takes just a few clicks instead of manually filling and shading in paper charts. Other dental EHR systems even automatically calculate attachment levels saving you more time.
The benefits of using an EHR even extends after the patient visit. EHRs can help facilitate post-visit tasks like billing and claims submission, referrals, and e-prescription.
EHRs save time and money by automating your practice's workflow, allowing you to spend more time on patient care.
3. Speeds up the Billing Cycle and Increases Revenue
The goals of every business include maximizing revenue, and your dental practice is no different. Dental EHRs have integrated billing tools that manage billing cycles and ensure payments. After charting and applying the necessary treatment and procedures, you can easily present the treatment costs to the patient while they are still in the office. If the patient's insurance covers the treatment, your biller can then easily process the dental claims. Without the need to manually enter data into different software, your practice can achieve accuracy and faster billing turnaround time.
Built-in scrubbing and pre-check features reduce coding errors and increase your chances of getting paid the first time. You can make your front desk a cash flow generating asset by adding reminders to collect payments before and after treatment. Additionally, you can set up automated patient reminders about routine dental visits like teeth cleaning to decrease your missed appointments.
Built-in reporting tools allow you to measure financial progress and discover areas for improving profitability. With an EHR, you can assess how financially healthy your practice is.
Additionally, certified dental EHR software can help you meet reporting requirements like MIPS and receive financial incentives.
4. Improves Data Organization and Prevents Storage Issues
As your practice grows and your patient data increases over time, becoming more complicated, a better way of organizing medical and dental histories becomes essential. Without an organized digital solution, it is difficult to go through a patient's entire medical history to develop the best course of action.
Manually retrieving and shuffling through periodontal charts to find previous probe depths can be time-consuming and cumbersome. With dental EHR software, you can quickly pull up a patient's previous charts and easily compare them to make informed decisions.
Additionally, paper dental and periodontal charts can fade over time and may become undecipherable.
Depending on the state, dental practices are required to retain dental records for at least five years. Regardless of the size of your practice, five years of records take up quite a bit of space. In the case of a natural disaster, years of patient data can be lost in a flash. With dental EHR software, you can rest assured that your data is stored safely and isn't cluttering the office.
5. Increases Accuracy and Creates a Higher Quality of Care
EHRs standardize charting and minimize errors. Through EHRs, providers can quickly update details in real-time, provide accurate information, and prevent duplication of treatment.
Integrations with digital x-rays also improve the ability to diagnose effectively since dental providers can easily switch back and forth between the image and the patient's dental history.
These kinds of benefits are even more apparent when managing medications. With drug interaction checking tools, you will be alerted of any potential conflicts before prescribing a medication. Integrated EPCS support can prevent drug abuse, add safety measures for both patients and providers, and track usage over time. Additionally, your state's PDMP can integrate with an EHR for better monitoring of prescription drugs.
Read More: What States Require EPCS & How Your Practice Can Stay Compliant
Dental EHRs Allow You to Work Smarter, Not Harder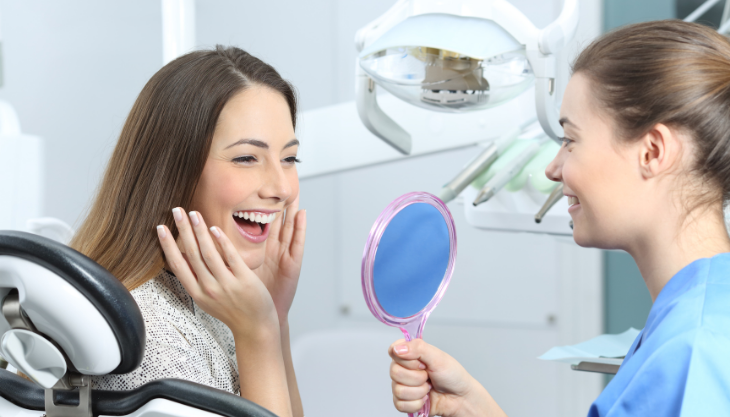 EHRs are more than just health records. They help your dental office work efficiently, grow your practice, and improve your bottomline.
Meditab's own dental EHR, Intelligent Dental Software (IDS), allows you to achieve just that. With built-in dental imaging and charting tools, as well as EHR, practice management, billing, and office management systems, IDS optimizes your dental practice in one powerful software.
Without dental EHR software, your dental practice is missing out on the support you deserve.
Share this post: on Twitter on Facebook on Google+