What States Require EPCS & How Your Practice Can Stay Compliant
Healthcare Technology Guidelines Prescription Management
With the ongoing abuse of opioids across the country, certain states have begun establishing mandates around Electronic Prescriptions for Controlled Substances (EPCS). These new security and tracking requirements aim to help deter the misuse of opioid prescriptions that have led to the persistent and tragic number of overdoses affecting the country.
Electronic oversight of opioid prescriptions also looks to reduce "doctor shopping," where patients solicit multiple practitioners to circumvent prescription dosage limits. EPCS can further reduce the risk of prescription theft, document alterations, or outright fraudulent prescription writeups.
Is My State EPCS-Mandated?
For health practitioners, it's essential to know if EPCS regulations are already in effect for your state or if the deadline for such policies is on the horizon. 2021 marks another significant milestone for EPCS. As of January, a federal EPCS requirement for Medicare Part D drugs is now in effect. Due to the pandemic however, CMS has stated they will not enforce the requirement until January 1, 2022.
Beyond that, however, four more states are already joining the list of states with general EPCS requirements before the end of 2021. Then another three will make the change at the beginning of 2022.
Note that some states temporarily waived their scheduled mandates, allowing practitioners to focus on the ongoing pandemic. If you are unsure about your requirements, you can check for the latest changes directly with your state pharmacy board.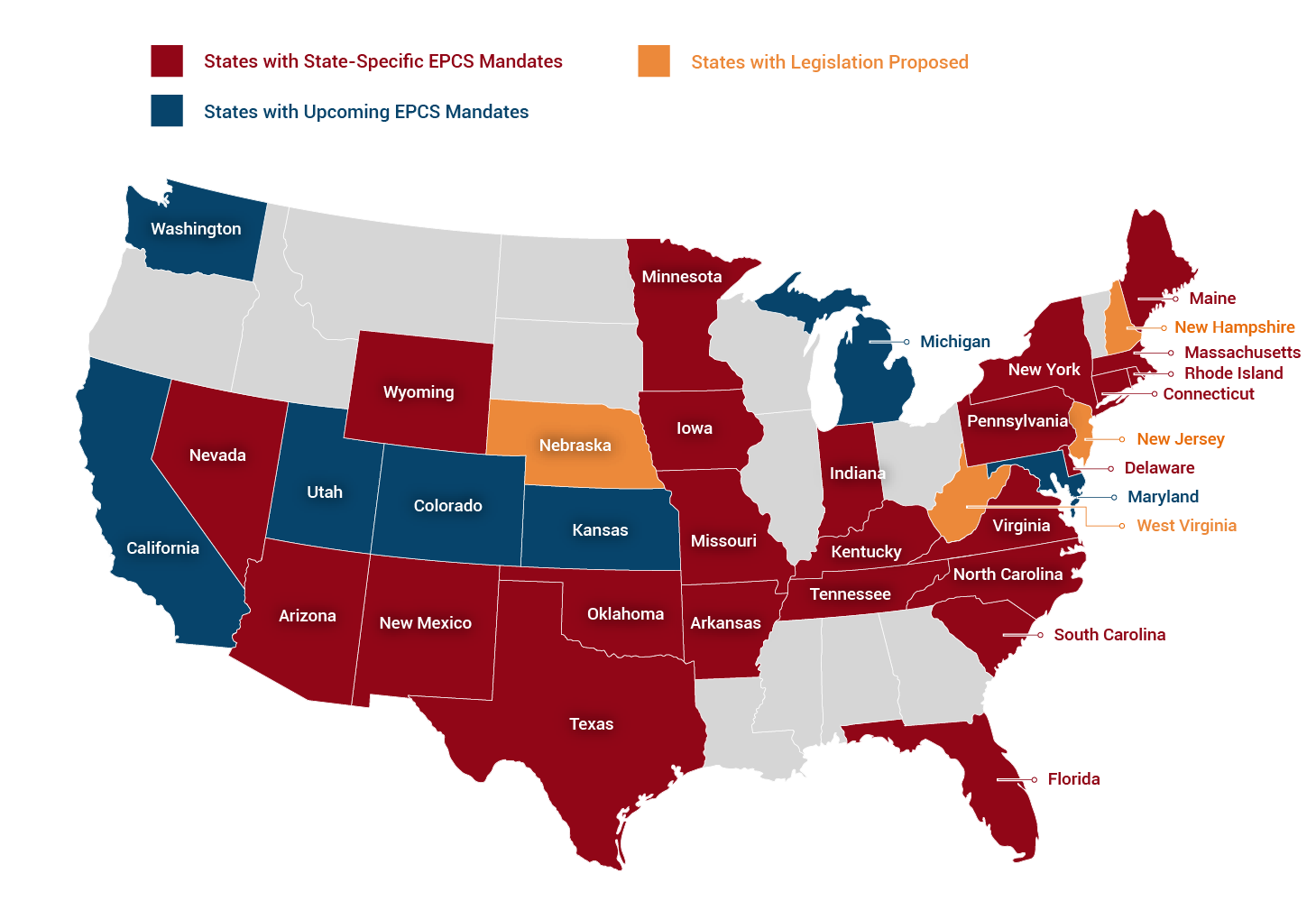 States with State-Specific EPCS Mandates
Arizona

Arkansas

Connecticut

Delaware

Florida

Indiana

Iowa

Kentucky

Maine

Massachusetts

Minnesota

Missouri

Nevada

New Mexico

New York

North Carolina

Oklahoma

Pennsylvania

Rhode Island

South Carolina

Tennessee

Texas

Virginia

Wyoming
States with Upcoming EPCS Mandates
Colorado – Jul 1, 2021

Kansas – Jul 1, 2021

Washington – Sept 30, 2021

Michigan – Oct 1, 2021

California – Jan 1, 2022

Maryland – Jan 1, 2022

Utah – Jan 1, 2022
States with Legislation Proposed
Nebraska
New Hampshire
New Jersey
West Virginia
What Are EPCS Compliance Requirements?
EPCS legislation began in earnest as recently as 2016 when New York became the first state to enforce such a policy. The first federal mandate did not take effect until October 2018, with the signing of the SUPPORT for Patients and Communities Act.
The law included an electronic prescription standard for all controlled substances listed under Medicare Part D drugs. It also instituted a deadline for states to establish their own EPCS standards by January 1, 2021.
Since then, the number of states with EPCS regulations has risen to 24, with seven more lined up for future enactment and four with legislation pending.
The U.S. Drug Enforcement Agency (DEA) has provided a set of EPCS compliance guidelines for providers, vendors, and pharmacies to follow. Such a system must include:
Certification of the EHR/e-prescribing application
ID proof that a provider is authorized to prescribe controlled substances
2-step access control for EPCS permissions for approved prescribers
2-factor authentication for providers who sign an EPCS prescription
Comprehensive compliance reporting and auditable events and security incidents documentation
What Are Prescription Drug Monitoring Programs (PDMP)?
EPCS regulations have gained popularity due to the strict safety measures for both patients and practitioners. Part of the continued success, however, comes from the growth of tracking mechanisms surrounding prescription drugs.
EPCS systems often work in sync with a Prescription Drug Monitoring Program, or PDMP, which helps identify drug-seeking and drug abuse behaviors among patients through pharmacy-submitted customer data.
If you're a healthcare provider with the ability to prescribe controlled substances, we highly recommended you apply for PDMP access immediately via your state's government website. You'll be able to view patient prescription histories and medication disbursement, which can help inform your future prescription choices.
EHRs Can Improve EPCS and PDMP for Your Practice
For heightened efficiency and effectiveness when it comes to prescription drug mandates, your EHR can play a vital role. Ask your EHR or EMR provider if your system supports EPCS compliance integration and can connect with PDMP management. Ensuring your electronic health records include the security functionality you need can go a long way towards making it easier to remain in compliance with state regulations.
Meditab's own Intelligent Medical Software (IMS) platform offers full EPCS and PDMP support and integration, alongside an EHR and practice management system. Various reports are available in IMS to monitor the prescription of controlled substances, and IMS has a hard token and soft token authentication mechanism for added security.
If your practice needs to update to EPCS, it's not too late.
Disclaimer: This post was originally published in October of 2019 and has been updated to include the latest dates and relevant details. The information contained on this website is for general information purposes only. Readers should review their state pharmacy board website for the most current and accurate information.
Share this post: on Twitter on Facebook on Google+