Choosing Patient Communication Software for Your Practice
Upgrading your clinic's communications isn't as simple as purchasing a new phone plan. As a healthcare professional, your needs are more complex. From sending appointment reminders, managing your staff's time, and staying compliant, you need a purpose-built patient communication platform that parallels your workflows and scales your business.
But beyond operational benefits, selecting the right software creates opportunities to nurture provider-patient relationships, paving the way for a more collaborative approach to patient care.
The goal is to adopt a system that facilitates patient engagement through accessible and secure channels between providers and patients. Choosing the right patient communication software is essential for this success.
Read More: 4 Steps to Help Improve Patient Communication
4 Features to Look for in Patient Communication Software
1. Automated Patient Appointment Reminders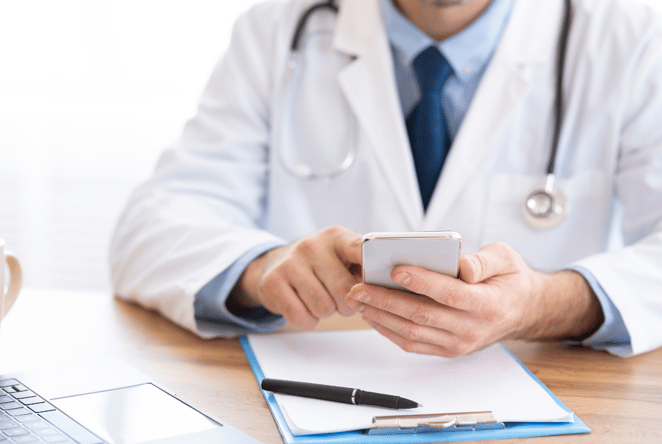 A patient's care journey often begins during appointment scheduling. To win your patient's trust, taking extra care to facilitate a smooth appointment process sets you up for a productive consultation.
From confirming schedules to sending reminders, follow-ups, and recalls, continuous patient engagement shows your commitment to their well-being and is a hallmark of patient-centered care. With patient communication software to automate these messages, you can rest assured that your patients have the support they need from your staff.
In many ways, automation isn't just convenient but also cost-effective! Manual phone calls or dealing with mailing lists is too costly and time-consuming. Plus, there's a risk of letting patient leads slip through. Automated appointment reminders help you avoid no-shows and last-minute cancellations while securing patient retention and revenue streams in the process.
2. Accessible Patient Portals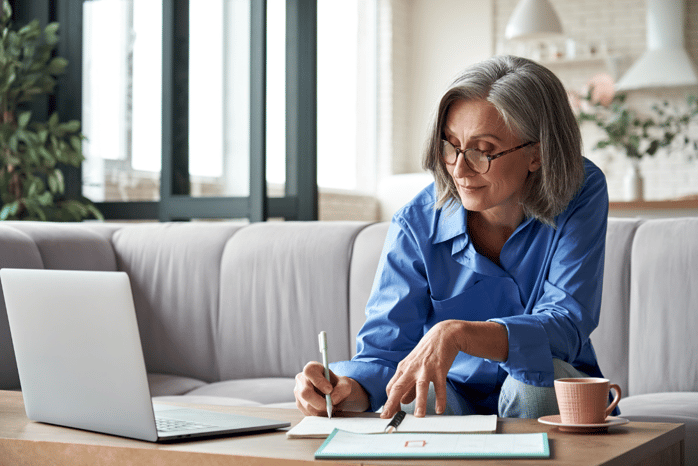 Online patient portals and patient apps facilitate paperwork from patient to provider and vice-versa. But, sometimes, patients need reminders to actually check their portal. Patient communication software allows modern practices to send updates via text or email to notify patients about the availability of lab results, billing statements, visit notes, and more.
Connecting care portals through a mobile app takes this experience to the next level. In the case of IMS Care, Meditab's forthcoming app featuring an online portal and patient app in one, users save the hassle of remembering multiple passwords to log in and access their data. In just one consolidated platform, you can manage appointments, send prescriptions, draft care plans, and send documents—covering all bases for your patient's needs. The app's portability is another plus, giving users 24/7 access to these features anytime, anywhere.
Besides logistical convenience, care portals help patients to stay on top of treatment plans. Oftentimes, understanding treatments and diagnoses can feel confusing and unfamiliar. Providing patients with easy access to their own data is the first step in empowering them to learn more about their health. Using what they know from their health reports, they can engage in discussions with their doctors and collaboratively make decisions about their care. Through their active participation, their wellness journey becomes a more fulfilling and holistic experience.
Read More: Don't Miss the Potential of Apps for Patient Engagement
3. Integrated With Your EHR and Practice Management Tools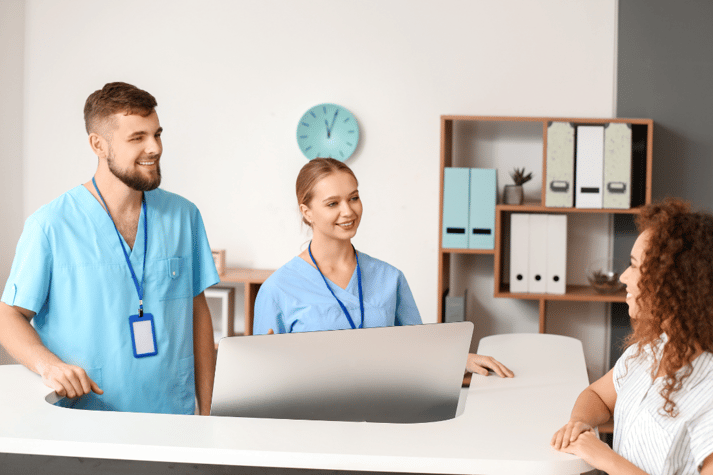 Unlocking the full potential of patient communication software goes beyond mere automation – it's about seamless integration. After all, the patient journey within a healthcare clinic is a complex process that involves numerous touchpoints and interactions. Only a truly efficient system works smoothly with your electronic health records (EHR).
For instance, after a patient confirms an appointment booking, your staff should be able to pull their records or encode their details (if they're new patients) without switching to another system.
Following a consultation, healthcare providers should create personalized educational materials that align with the patient's specific treatment plan, empowering them to actively engage in their care journey. The best patient engagement software conveniently delivers these customized references to them online
From simplifying appointment scheduling to monitoring no-shows and delivering billing documents, your software should be a comprehensive solution that simplifies the patient journey for providers and patients alike.
4. Intuitive, Secure Patient Communication Platform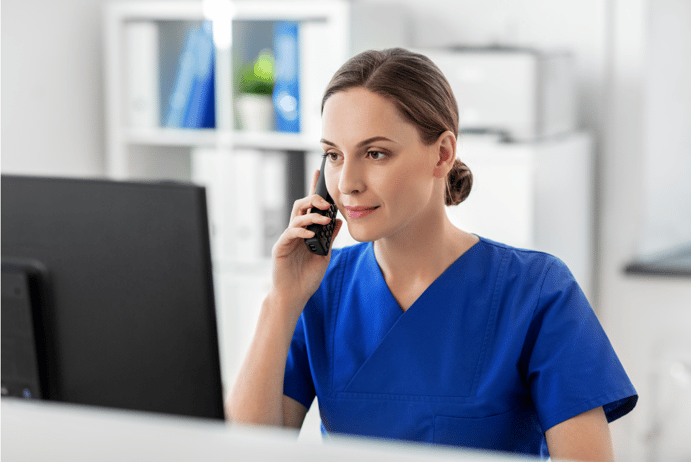 Lastly, remember to consider user-friendly software and how smoothly it fits into your daily workflows. The best software is intuitive, so your team can use it without the headache of lengthy training or confusing manuals.
You also want your patients to trust that their personal information is safe with your practice.
That is why your choice of patient communication software should be HIPAA-compliant. You can tell if a software solution adheres to the industry's highest data security standards if it has strict password requirements and offers advanced user access control.
Read More: IMS Chat: Why Modern Care Teams Need a HIPAA-Compliant Messaging App
Choose the Best Patient Engagement Software
Investing in the right tools creates a healthcare ecosystem that meets everyone's needs. It's a symbiotic relationship where efficiency, engagement, and security combine to enhance the healthcare experience and improve patient outcomes.
If you're ready to level up your patient engagement initiatives, our advanced healthcare communication software, IMS InTouch, is the solution you've been missing.
IMS InTouch is a HIPAA-compliant, automated patient messaging service that delivers appointment reminders, clinic announcements, birthday greetings, and other essential communications straight to your patients' inboxes via SMS or email. Fully integrated with our all-in-one EHR platform, Intelligent Medical Software (IMS), IMS InTouch makes patient messaging secure and convenient.
Request a demo today to see firsthand how Meditab's Intelligent Medical Software (IMS) can enhance your patient engagement efforts and tick all the boxes of what you're looking for!
Share this post: on Twitter on Facebook on Google+