IMS Build 32: A Game-Changer in Healthcare Management
Healthcare Technology New IMS Feature EHR
Seamless user experiences come from smart software designs—ones that are curated with a solid grasp of the user's needs and preferences. This philosophy is at the heart of our latest set of upgrades. With Build 32, we've redesigned IMS with the user's journey in mind.
How can providers achieve peak productivity? What features can we add to ease practice burdens? How can patients connect with providers comfortably? Our quest to answer these questions led us to uncover the missing links in healthcare management. Guided by our client's feedback, we've patched up those software gaps, ironing out inconsistencies and padding it with new features.
In this latest version of IMS, you'll find enhanced interface designs, effortless accessibility, and seamless integration—all designed for your practice's convenience.
What's New with Build 32?
Intuitive and Modern Interface Design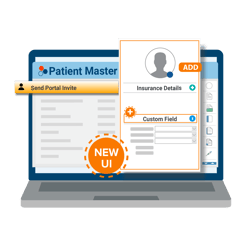 We listened to your feedback closely and revamped our system to tackle inconsistencies in the Patient Master navigation and design.
Now, you can effortlessly access patient data with a sleek, intuitive interface and customizable panels.
Plus, with our desktop application, you'll enjoy faster processing times and efficient data handling compared to web apps.
Precise Vaccine Mixing and Management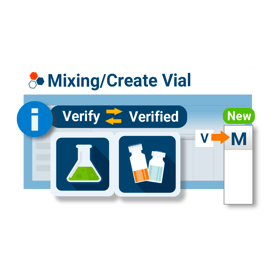 The U.S. Pharmacopeia (USP) standards have set the bar high for medication compounding and sterilization in their USP 797 Chapter, demanding comprehensive SOPs with schedules and methods for verification.
IMS lends a digital hand, empowering lab technicians to maintain pinpoint precision in vaccine handling. The two-level verification protocol in the Mixing Screen limits data input changes to authorized users with valid credentials, preventing unauthorized access. The system also records verified vial entries and logs their authorization dates, providing a tool for tracking data changes over time.
Automatically Collect and Send Patient Forms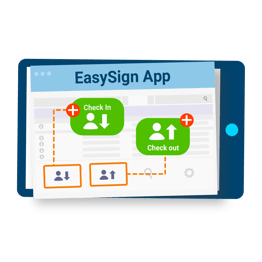 Getting check-in and check-out forms signed has never been easier! We added a dedicated section in the EasySign application for front-desk users to manage these forms with ease. This update not only makes the interface look and feel modern but also lets you sign things in real-time, significantly streamlining your workflows within IMS. It's a testament to our commitment to meeting your needs and aligning them with industry standards.
A similar integration is also added to FertilityEHR. Now, you can effortlessly import medical consent forms directly into your patient's records using EngagedMD. As soon as they're digitally signed, the forms are sent back to the patient's provider in real-time. At Meditab, we're all about making the care journey easier and ensuring smooth accessibility at every turn.
Read More: What is Interoperability in Healthcare & How Will It Help My Practice?
Thorough Insurance Eligibility Verification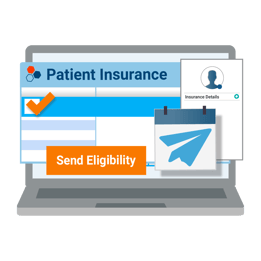 Don't let the hassle of verifying your patient's health coverage slow you down. Prepare for appointments with ultimate ease using our system. With IMS, you can effortlessly access a patient's insurance coverage well before their scheduled appointment. Select any service date, and let the system do the heavy lifting, like automatically confirming all the crucial insurance details for you. This is appointment preparation made effortless.
No more last-minute scrambles or phone calls to verify insurance eligibility. With IMS Build 32, all the necessary information is at your fingertips. This proactive approach saves you time and provides your patients with a smoother check-in process, leaving them with a positive impression of your practice.
Catch Potential Issues Before Each Report Cycle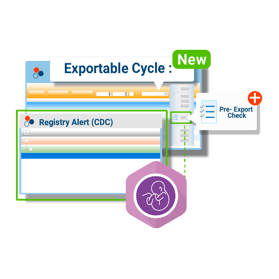 This update reduces errors and missing information on NASS report cycles.
Our new on-screen validations guarantee that users input all the essential details needed for a successful cycle export to the NASS portal. This ensures users complete all required information, enabling efficient cycle management within IMS. You'll also stay up-to-date with the latest Centers for Disease Control and Prevention (CDC) requirements.
You can rely on the IMS to identify potential issues within each selected cycle, offering valuable insights to address them promptly. With Build 32, you can reduce turnaround times during report submissions, making your workflow smoother and more efficient than ever.
Ophthalmology and Optometry Integration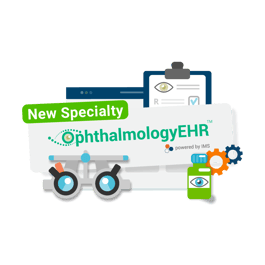 The Meditab Team has collaborated closely with ophthalmologists to craft essential specialty-specific features in IMS. We're thrilled to announce that these features are now available for all Ophthalmology and Optometry practices!
With this integration, IMS optimizes ophthalmology workflows by simplifying clinical and surgical documentation. From exam findings and diagnostic images to surgical visit notes, IMS Build 32 brought everything eye care specialists need to improve efficiency into one dependable platform.
Read More: 4 Ophthalmology Patient Engagement Tools for Your Practice
Don't Settle For Stopgap Solutions
At Meditab, your experience is important to us. We do not cut corners when it comes to quality solutions that can keep up with your daily practice demands. We are dedicated to providing lasting benefits as your trusted digital partner in delivering exceptional care.
Experience these revolutionary updates firsthand. Contact your account manager to get Build 32 if you're already a client. Or if you're new to IMS, schedule a FREE demo today! We can't wait to show you what's possible in modern healthcare delivery!
Share this post: on Twitter on Facebook on Google+