6 Must-Have Dental Software Features to Streamline Your Clinic
EHR Practice Management Dental
The work that goes into running a dental practice and maintaining smooth operations can turn even the brightest smile into a frown. Thankfully, technology solutions like dental software make dental professionals' jobs much less taxing.
Like other healthcare sectors, dental clinics face challenges from multiple fronts, including workflow inefficiency. If routine workflows and menial tasks constantly bog down your practice, then maybe it's time to rethink your current dental software or consider getting one if you haven't already.
Read More: Why Dental EHR Software Is a Necessity For Dental Practices
With the right software tools, you can automate critical workflows, reduce paperwork, enhance communication, and save time and resources.
Choosing the Right Dental Software Is Key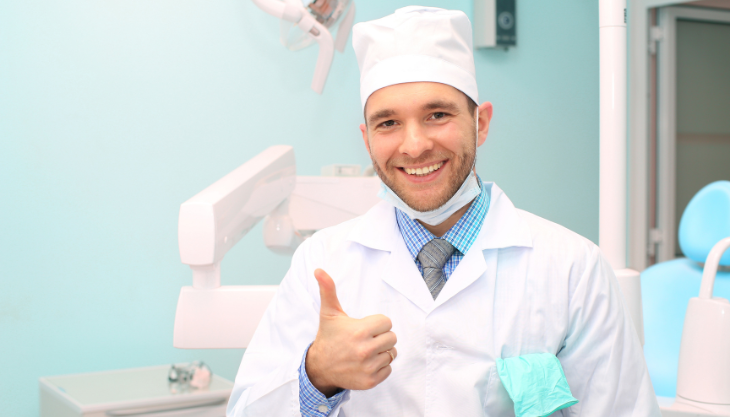 Unfortunately, not all dental clinic management systems are created equal. Choosing the wrong software could compound the challenges you're already facing. That's why knowing what features to look for in your dental software is essential.
However, with plenty of available options today, choosing the right one for your practice can take time and effort. In this article, we will explore the six must-have dental software features that streamline crucial clinical, administrative, and operational workflows to improve patient care, staff productivity, and your bottom line.
Read More: The Dos & Don'ts of Selecting a Practice Management Platform
Seamless Device Integration
One of the best indicators of sophisticated dental software is if it can seamlessly integrate with your existing devices like digital imaging tools and other diagnostic equipment. This feature can save you time and money, allowing you to continue using your existing equipment.
Any forward-thinking technology solutions provider understands how crucial device integration is in streamlining workflows across a multifaceted business operation like a dental clinic. It should be one of the first things you consider when choosing a dental clinic management system for your practice.
Custom
izable Dental Templates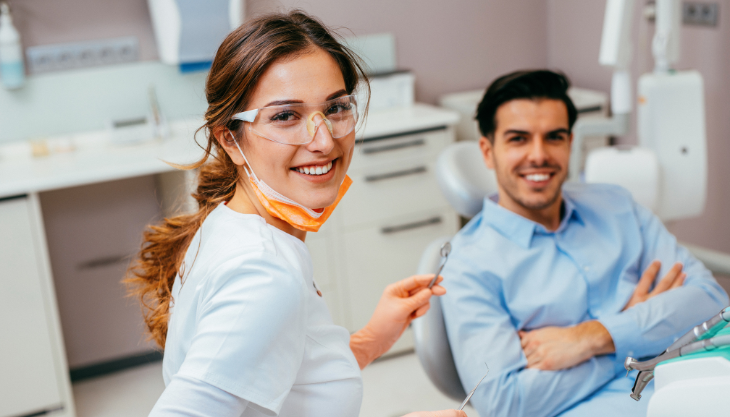 Dental professionals can significantly benefit from customizable dental templates that allow them to personalize how they document specific patient needs, cases, or dental specialties. With customizable templates, you can create a standardized process for each patient visit, saving time and reducing the risk of errors.
For instance, dental templates can include treatment plans, progress notes, patient histories, and even integrate visit notes, bringing all your clinical documentation needs to one place.
Dental Charting
Dental charting is a critical tool that bridges your clinical and billing workflows. The best dental software solutions create a seamless transition between different areas of your practice, significantly improving productivity and user experience.
One of the best examples of advanced dental charting functionality is that of Meditab's Intelligent Dental Software (IDS). This innovative dental software comes integrated with a full suite of dental charting features like customizable images for procedures and conditions, treatment estimation, and other tools that allow you to chart and bill procedures, treatments, and conditions per tooth.
Periodontal Charting
Periodontal charting is a specialized tool used to document the health of a patient's gums and supporting structures. With digital periodontal charting software, you can easily track changes in a patient's periodontal health over time, identify potential issues early on, and provide targeted treatment to prevent further damage.
Built-In Communication Tools
Communication is vital in any healthcare setting, and dental practices are no exception, so you should choose a dental clinic management system with built-in communication tools.
Integrating a secure messaging platform into your dental software allows you to share and exchange information with your staff and other providers in real time, accelerating care delivery and improving your patients' and staff's experience.
Collection & A/R Management
Billing tools are essential for dental practices to manage their finances effectively. With digital collection and A/R software, dental practices can easily track outstanding balances, send automated reminders, and process payments online.
A dedicated collection and A/R management software reduces billing errors, accelerates payment collections, and ultimately improves their bottom line.
The Best Dental Software For Your Practice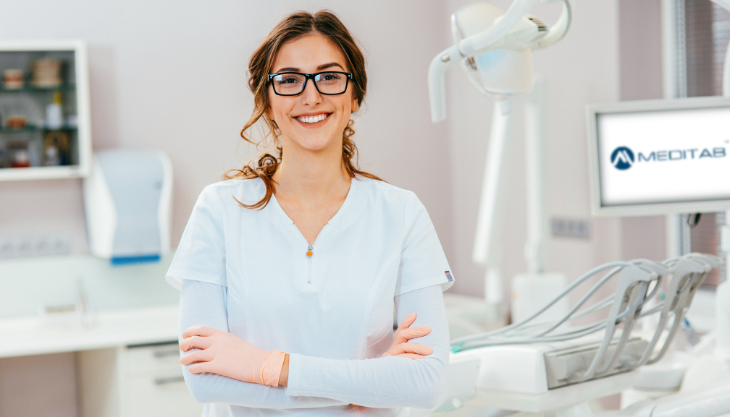 As technology advances, dental practices must embrace digital solutions to remain competitive and provide patients with the highest level of care. With the right dental office software, you can ensure your practice's success amidst the ever-changing dental landscape.
With 25 years of experience, Meditab understands the importance of staying ahead of industry trends and demands. That's why its dental-specific software, IDS, comes with advanced, forward-thinking features that future-proof your dental practice.
With robust third-party device integration, customizable templates, dental and periodontal charting tools, built-in messaging, a complete revenue cycle management (RCM) solution, and other advanced features, IDS streamlines your daily workflows, improves efficiency, and increases productivity and your bottom line.
When your dental software is powerful enough to run all of your operations, you can focus more on patient care and less on administrative tasks, ultimately leading to better patient outcomes and a more profitable practice.
Share this post: on Twitter on Facebook on Google+