Top 10 Best Allergy EHR Features Every Allergist Needs
Healthcare Technology Allergy Immunotherapy
Editor's Note: This post was originally published in October 2019 and has been updated and expanded with new information.
No matter the specialty, a one-size-fits-all EMR just isn't going to cut it anymore. As a highly specialized field, allergists and immunologists need to keep an eye out for modern, Allergy-specific EHRs that understand their unique documentation needs and workflow. In a market full of generic software, though, finding the best allergy EHR for your practice is a challenge.
As a consistent leader in the allergy field and having worked closely with allergists and immunologists across the country, we've seen what an intuitive allergy software can do. Here are the allergy-specific features that can help elevate your practice.

1. Single-Screen Allergy Skin Test Documentation
The best allergy EHRs allow you to document skin test results and define antigens, allergens, and diluents with ease from a single screen. A single-screen skin test gives a comprehensive report of all the allergens already tested for a patient to help you easily create a vaccine and make informed decisions.

2. Integrated Shot Modules & Customizable Shot Schedule Templates
As rare as it sounds, one feature to look for in an EHR is an integrated shot module. Integrated shot modules in your EHR let you administer and manage your patient's shots without the need to switch to another software to view patient records.

3. Missed Shot Follow Up
Consistency is vital for patients getting allergy shot treatments. To ensure that consistency, your EHR must track and notify your patients who have missed their allergy shots. To make monitoring easier, look for an EHR that can send automated reminders through text or email.

4. Reaction Checking and Treatment
When it comes to patient safety, documenting their reaction to shots is essential. Good allergy EHRs can document local and systemic reactions and set up alerts for critical reactions.
In case of delayed shot reactions, patients should still have the ability to report any allergic reactions they might encounter later on. Patient engagement tools with photo-sharing capabilities can help streamline that process without having the patient come back to the clinic. In turn, EHRs should have the ability to record a delayed reaction.

5. Automated Immunotherapy Billing
As a business, it is important for you to get paid on time. Find an Allergy EMR or EHR that automatically adds CPTs and ICDs to skin tests, allergy shots, and other treatments. It's even better if the EHR has an integrated billing module where you can process and send claims directly. Spend more time with your patients and get paid sooner, all while minimizing administrative tasks.
6. Automated Referral and Authorization Tools
In busy clinics like allergy practices, automation is everything. Since most allergy practices process many referrals and authorizations in a day, it helps to have an EHR that automates the process. Simplifying your workflow helps save your staff valuable time and prevent burnout.

7. Mobile Capabilities
Mobile EHRs give you the freedom and flexibility to access your practice anytime, anywhere. It helps providers improve their work-life balance all the while being connected to the clinic. Meanwhile, patient engagement apps empower patients to take charge of their health at their own pace. Coupled with self-check-in features, these can automate your check-in process, freeing up your front desk staff for more critical tasks.

8. Lab and Machine Integration
The best allergy EHRs adapt to your practice and not the other way around. A must-have feature for EHRs is the ability to provide seamless integration to the clinic's already existing machines without forcing the clinic to buy new ones that are only compatible with their software.
Additionally, the ability to track, send, and receive lab orders electronically right from the EHR, and view comparative lab data, means less wasted time across the board.

9. Reports Preparation and Management
A good allergy EHR should also fuel practice growth by providing data-driven analytics to help make informed decisions. Consider a system that keeps track of all your operations, both medical and administrative, through comprehensive reporting. What's even better is to have a system where reports are automatically generated and sent to the appropriate staff for faster decision-making.
10. Office Management Tools
Inefficiencies in the medical office affect your staff's productivity and patient satisfaction. Understaffed office locations lead to long patient wait times and dissatisfaction. Unanswered phone calls and unreturned voicemails will make your patients feel like they are being abandoned. It doesn't hurt to have an EHR that takes care of these things for you too. Office management features that boost your medical office moves your allergy EHR closer to being the complete package.
The Only True All-in-One Software Solution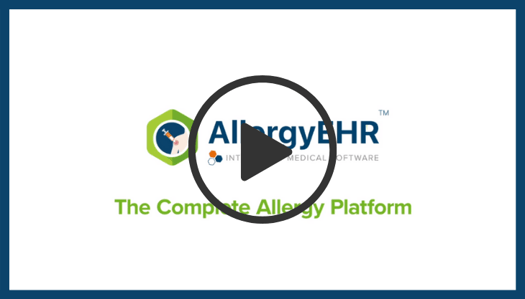 Choosing the right software solution partner is a high-risk decision. That's why you shouldn't settle for anything less than the best. The right EHR allows practices to document and treat a patient while maintaining workflow efficiency, optimal use of office staff, and achieving financial success.
If the features mentioned above are what you are looking for in an EHR, it is worth looking at AllergyEHR.
Meditab's award-winning allergy EHR software, AllergyEHR, empowers allergists to run their entire practice using a single integrated system, combining immunotherapy features with practice management, EHR, patient engagement, and office management tools. There is no other solution in the market that combines these features in just one single software. Voted a Black Book award winner year-after-year, AllergyEHR is one of the top software choices for allergists across the county.
Share this post: on Twitter on Facebook on Google+