In only a matter of months, the coronavirus (COVID-19) has taken a shocking toll on the United States. But no one is bearing the brunt of the crisis more than medical professionals and institutions. Far from being a singular problem, the pandemic has exasperated and worsened many of the challenges US healthcare has struggled with for years.
Thankfully, it is also giving us clues for a path forward.
Before COVID-19: The Already Changing Face of Healthcare
With an aging population, rising expectations from patients, and an ever more complex and shifting landscape of political scrutiny, healthcare has already seen a continuing era of transition for over a decade. Many of the challenges facing practices stem from just that—a need to adapt.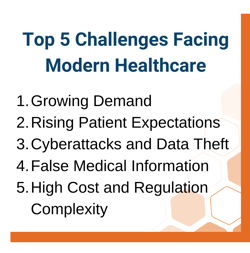 At the same time, patients are beginning to expect the same convenience and immediacy from their physicians that they experience with other services online. When more of us every day are paying our bills, buying groceries, and streaming movies all with just a few clicks online, inefficiency and delays due to outdated record-keeping at our local clinic become harder to tolerate.
However, as practices embrace new technology, new challenges emerge. From ransomware attacks to data theft, healthcare institutions are a target for cyberattacks the world over. Back in 2018, Sutter Health, one of the more prominent healthcare systems in California, reported over 87 billion annual cyberthreats. And numbers such as that have only gotten worse in the years since.
These were the challenges physicians and experts around the world were rising to face when suddenly everything changed.
During COVID-19: Greater the Challenge, Greater the Determination
Staffing shortages were far too common, even before a historic surge in patients. While more impacted medical institutions have struggled to handle the dramatic increase in need, that is only the beginning of the challenges facing the industry at large.
With stay-at-home orders across the country and now almost 15% of American workers unemployed, we're still in the early stages of calculating the wider effects of COVID-19. But the immediate consequences are clearly visible.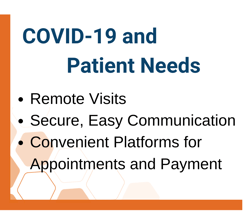 Often, losing your job means losing your insurance. Either way, economic struggle also means patients are warier of high medical costs. At the same time, as elective procedures have been banned and patients postpone general care due to fear of the coronavirus, providers nationwide have been forced to furlough staff or close entirely. And these have only further restricted the country's pandemic response. Add in the frightening advent of coronavirus related cyberattacks, and circumstances look understandably bleak.
Grappling with these unprecedented challenges, however, is driving an industry-wide wave of adaptation. Despite steady growth over the past few years, HIPAA-compliant Telehealth technology has now vaulted to the forefront of medical practice. A recent study already found 33% of patients would leave their physician for a different one that offered Telehealth options. Seemingly tailor-made for social distancing, Telehealth can shorten wait times, improve access to care, and—thanks to the new price parity support from CMS and major insurers—help financially bolster your practice.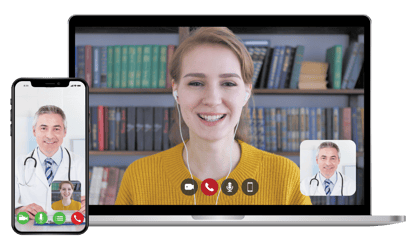 Along with Telehealth, patients are also gravitating toward other healthcare technologies, seeking the convenience and reliability that has become so essential for day-to-day life in a pandemic. Best of all, though, the healthcare industry is already in a position to deliver what patients are looking for.
Healthcare cybersecurity companies are rising to the occasion. Cloud hosting enables your practice to work remotely with ease. Meanwhile, online appointment booking, simplified payment processing, patient portals, and electronic prescriptions aren't fundamentally new, but their implementation is already playing a crucial role in helping practices.
With these developments in mind, Meditab has assembled what we see as the EHR features needed most to give practices and patients the stability and peace of mind they need.
After COVID-19: A New Normal, and a Better Healthcare System
The same challenges the healthcare industry struggled with before the pandemic are just as troublesome today. However, the same solutions that are helping us during this crisis are also showing us a better way to provide care. The ideal patient journey during COVID-19 prioritizes efficiency, transparency, patient engagement, and quality. The same can be true afterward as well.
Connecting with modern patients in greater numbers, while eliminating barriers to healthcare and staying financially stable, has always been the goal. With the cascade of changes brought on by the coronavirus pandemic, it's now possible.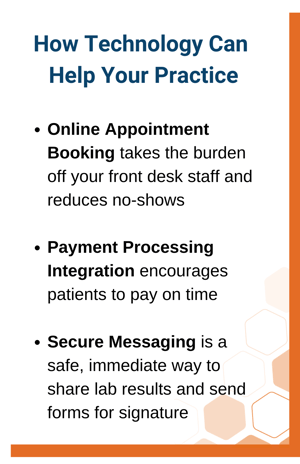 As the United States recovers in the years ahead and faces what some experts fear could be multiple waves of the disease, having these technologies in place won't just be a luxury, it will be a necessity. Physician burnout, disruption to hiring, and the fallout from closed practices are all very real factors we will have to grapple with. Thankfully, increasing efficiency and driving patient satisfaction will help with those too.
And the benefits don't stop there. Throughout the pandemic, misinformation has run rampant, and it's a trend that will continue. With so many lives depending on a coronavirus vaccine, for instance, misguided efforts such as the anti-vaccine movement pose a real threat to public health. Ensuring easy and more convenient access to care will go a long way in keeping everyone informed and safe.
Small changes like that are the elements that will build up into a stronger, better healthcare system. Equipped with the lessons we have learned throughout the pandemic and embracing new tools, the healthcare systems of the future are already fast approaching.