What is UGM & How Can It Benefit Healthcare Professionals?
Healthcare Technology EHR UGM Practice Management
Healthcare is a dynamic industry. New technology, clinical advancements, evolving patient expectations, pandemics, and changing laws and regulations constantly affect how providers run their medical practice. We at Meditab are in awe of how healthcare professionals always go above and beyond for patients no matter the circumstances.
This is why we always strive hard to do the same for our clients. As a trusted partner, we want to equip practices with the skills and knowledge to adapt to this changing environment and deliver better care. Our clients' commitment to their patients inspires us to build better solutions for their practice and the entire healthcare community. As a result, UGM was born.
What is Meditab's UGM?
The User Group Meeting (UGM) is Meditab's annual conference specifically for our Intelligent Medical Software (IMS) users to discover the latest software developments, guide future product development, expand their IMS knowledge, and gain expert insights into the healthcare industry. With keynote speakers, specialty-specific sessions, interactive training sessions, practice consultations, networking, and IMS-exclusive offers, UGM is our way of giving back to our partners.
Whether you're a provider, an office manager, or a biller, there's always something for you at UGM. With dedicated tracks for billing, marketing and administration, compliance, and more, UGM provides you with valuable lessons to enable your team to make the most out of IMS. It's an excellent opportunity to inspire and educate your staff, as well as grow your network.
From Orlando to Sacramento to Las Vegas, UGM has met clients in cities all across the United States. However, to keep our attendees safe and healthy in 2020, UGM went virtual. While we're not returning to an in-person event quite yet, we've been hard at work making this year's virtual summit bigger and better.
What Is This Year's UGM All About?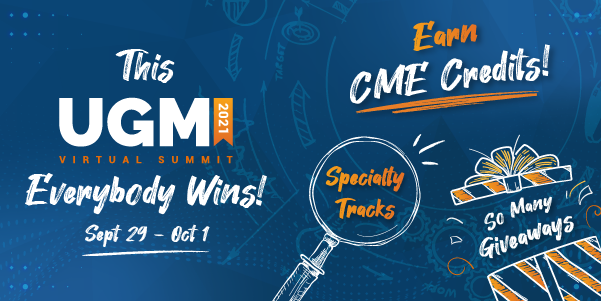 The pandemic triggered the largest shift in healthcare in recent history. New technologies altered patient behavior, causing the industry to rethink care delivery. This year's UGM is all about responding to that change and charting your path for the future. UGM 2021 will focus on strategies and tools to build "Your Post-Pandemic Playbook." We dive into the latest trends, technologies, and how you can use your EHR to build a brighter and stronger practice after a challenging year.
With the rise of cybersecurity threats to the healthcare industry, we will highlight the importance of data security during our keynote session. We've invited Nina Padavil, part of the Strategic Threat Advisory Group at Crowdstrike, to talk about the threats in your practice's data and the steps you can take to ensure your data is secure.
What Do Previous Attendees Say About UGM?
UGM is more than just a conference. It is a place to gain inspiration, learn from fellow IMS users, and build a better practice. Year after year, our attendees return to their practice refreshed, rejuvenated, and ready to implement new ideas. Hear what our previous attendees had to say:
You too can be a part of our growing list of clients who love UGM. The UGM 2021 Virtual Summit will take place from September 29 - October 1, 2021. If you are a client interested in joining the event, reach out to your Account Manager to learn more. If you're not yet an IMS user but would like to know more, schedule a demo today.
Share this post: on Twitter on Facebook on Google+