Providers of the Month: Stories of Service, Grit, and Determination
Community Health Physician Well-Being Provider of the Month
To say that the past year and a half has been challenging would be an understatement, especially for healthcare professionals. Throughout the pandemic, doctors, nurses, and other healthcare workers have borne the brunt of the crisis. From working long hours, often with limited resources, to being away from their families for days on end, medical frontliners have sacrificed a lot for their patients, practice, and respective communities.

Meditab launched the Provider of the Month blog series to show our appreciation for these inspiring providers. Since its debut in March, we've learned how these healthcare workers have risen above daunting challenges, persevered, and made a positive impact in their community.
Dr. Gary Baker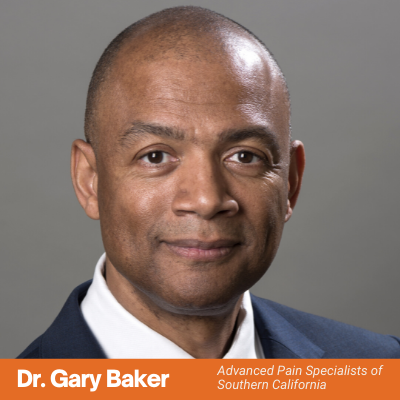 Dr. Gary Baker is a pain management specialist who serves as the primary physician and director for Advanced Pain Specialists of Southern California. While he initially didn't plan to get into pain management, he saw the need for more doctors to get into this field of medicine.
"During my residency, my grandmother got cancer and she developed a pain syndrome where the cancer was pressing on a nerve near her chest. And I saw how hard of a time the doctors were having treating her pain," Baker recalls.

Today Dr. Baker helps patients from all over Southern California get relief from chronic pain.
"We now have four offices, one in each county in Southern California — so Los Angeles, Orange County, Riverside, and San Bernardino," he says proudly.

As an Air Force reservist, Dr. Gary Baker has always had the desire and passion for serving. Beyond helping patients and his community, Baker also gives back to the medical community at large.
"Especially early on in my practice, as pain management wasn't quite as well-known or readily available, giving lectures was a way to educate people," he says, "I think a lot of it has to do with the fact that if you love something, you want to share it. I love what I do in pain management, and I like talking about it — especially if anybody's interested in hearing about it."
Dr. Aarti Kapur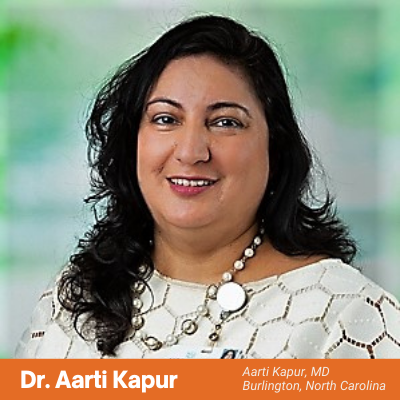 Dr. Aarti Kapur is a psychiatrist based in Burlington, North Carolina, where she runs a solo private practice.
"I treat a variety of mood disorders as well as anxiety disorders and personality disorders," she explains.
While focused primarily on psychotropic medication management, Dr. Kapur also does individual therapy to help her fellow Burlington residents cope with their mental health problems.

A staunch collaborative care advocate, Dr. Kapur believes in a multidisciplinary approach to mental health care. She has a vast network of providers she constantly works with to ensure the best possible outcome for her patients.
"I collaborate with other therapists in the community that do cognitive behavioral therapy, dialectical behavior therapy, acceptance, and commitment therapy. And they help co-manage my patients."

Even before she started her practice, Kapur had already decided to return to Burlington and serve her hometown.
"I actually grew up in Burlington. My dad practiced here for about 30 years, and when I went to residency, I wanted to come back home to practice," she explains.

With a worsening mental health crisis in the country exacerbated by the pandemic, communities could undoubtedly use a provider like Dr. Aarti Kapur now more than ever.

Catherine Okafor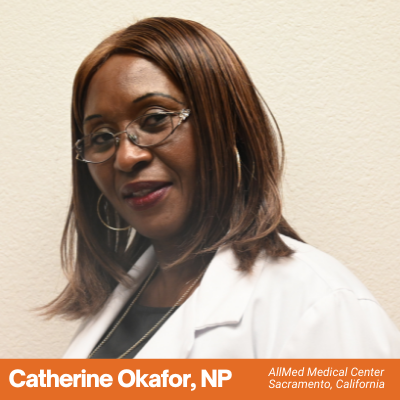 Communication is an area of clinical practice that rarely gets prioritized. However, for AllMed Medical Center nurse practitioner Catherine Okafor, her communication skills have been instrumental in building solid relationships with her patients — the brand of care she's been known for in her more than 30 years of nursing.
"To care for somebody, you need to be able to understand them. And to understand them, you need to communicate. That way you'll be able to deliver the care they need," she explains.

Especially now that misinformation about the COVID-19 virus and vaccines are prevalent, Okafor's impeccable communication skills prove to be invaluable in dispelling fears and misconceptions. She takes time to listen to her patients' inhibitions before giving her professional advice, making it easier to connect with and make them understand.

Dr. Tushar Patel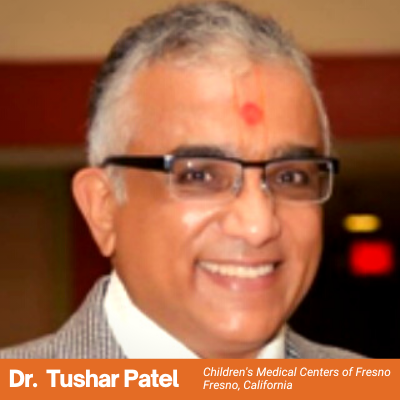 On top of being a full-time physician, Dr. Tushar Patel also runs the Children's Medical Center (CMC) of Fresno. With three locations, CMC Fresno primarily serves the underserved areas of Fresno, California. In his more than 20 years of practicing medicine and running a practice, Dr. Patel has become a shrewd businessman; however, he is still driven by a deep sense of compassion towards the underprivileged.
"We had several offers to open a practice in the so-called north part of Fresno, which is the upscale area, but we just didn't feel comfortable because that wasn't us," he explains.

Despite being a doctor and businessman running a multi-location practice, Dr. Patel always manages to find time for the things that matter most.
"The biggest challenge is balance. I think it's vital to find a balance between your family life and your professional life," he explains. "While it's really important to be dedicated and committed to your profession, you can't be devoured by it. And I think finding that balance is key."

Even with his accomplishments, Dr. Patel's definition of success remains simple.
"You could have a practice with 500 patients or a practice that has 5000. Who's happier at the end of the day is more successful in life."

Dr. Pradeep Simlote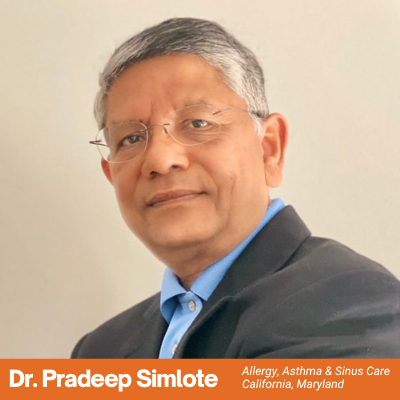 Healthcare workers have risen to the occasion during the pandemic, but none more so than Dr. Pradeep Simlote of Allergy, Asthma & Sinus Care in California, Maryland. Recognizing the need to educate people and ease their worries about getting the COVID-19 vaccine, Dr. Simlote donated his time, skills, and resources to the St. Mary's County Health Department.

"I saw the need for better screening and monitoring for patients that were at higher risk of having a reaction from being vaccinated," said Simlote. "I sought out the County Health Officer and asked how I could help."

Hoping to encourage more people to get vaccinated, Dr. Simlote offered his office space as a vaccination and monitoring center.
"Donating the use of my office space to the Health Department to vaccinate and monitor high-risk patients was an easy decision for me. It provided an actual office setting, complete with crash cart, to safely monitor those at higher risk. It was absolutely worth it, and I'd do it again in a heartbeat," he says.

Through his selfless act, Dr. Simlote hopes to inspire his fellow doctors and healthcare professionals to seek ways to help proactively.

Nominate the Next Provider
We've all seen or heard stories of the grim, heartbreaking situation in some private practices, ERs, ICUs, and COVID wards across the country. While most of the time, the main focus of these stories is the patients, the healthcare workers taking care of them deserve recognition as well.

If you know of an inspiring provider whose story deserves to be told, let us know by filling out the form below now!
Share this post: on Twitter on Facebook on Google+