Healthcare Technology TeleHealth COVID-19
By now, COVID-19 is already a global pandemic, and it's no secret that it hits older populations the hardest. As cases of the novel coronavirus continue to rise worldwide (559,103 global cases as of March 27, 2020), researchers have learned from findings in China that the risk of severe illness and death increases with age. Older adults and those with underlying conditions are particularly susceptible to the respiratory illness, which can cause pneumonia in addition to the symptoms including fever, cough, cold, and shortness of breath.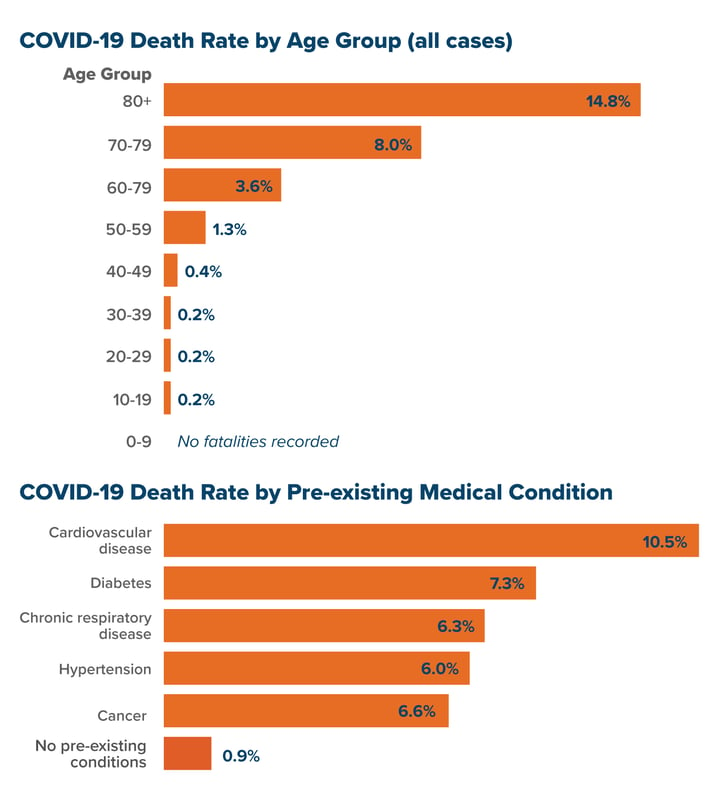 Source: Chinese Center for Disease Control and Prevention

Source: cdc.gov
Aside from some extraordinary outliers, it has become clear that being infected with COVID-19 when 60-80 years old often results in a dire medical situation. In the US, at least 116 people have died due to COVID-19, most of them in their 60s or older. This number was inflated by a case in a nursing home in Kirkland, Washington where 25 people who lived there contracted the virus and died. Many who have died due to the virus also had pre-existing conditions like cardiovascular diseases, emphysema, and diabetes.
How do we reduce the risk?
No matter our age or background, we all know older people who we want to keep safe from the virus. Our instinct to protect the vulnerable will leave us wondering… what can we do about it? What are the best practices and precautions to keep in mind so that we can prevent the virus from infecting those at-risk?

Follow Guidelines

Here's a handy guide from CDC specifically for older, at-risk individuals. The guide includes what actions to take to avoid getting sick and everyday precautions like the all too familiar "wash your hands often." CDC advises older people to avoid crowds and nonessential travel, and outlines what to do when they think they have COVID-19 symptoms. Keep these in mind and double the effort on at-risk people. Since most older people have underlying conditions, it is more difficult for their immune systems to fight infections. Don't just familiarize yourself with these guidelines, live by them.
Eat Healthily
There is no cure for COVID-19 yet, meaning the human immune system is still the only system capable of fighting the virus. The immune system weakens as a person ages (or as a chronic condition worsens), so it's important for older people to give it a boost by eating a balanced diet with "superfoods" such as kale, berries, eggs, green tea, salmon, and avocados. The micronutrients of A, B, C, D, and E; and the minerals iron, selenium, and zinc help make antibodies, destroy pathogens, and make your body respond to infections better. This, coupled with moderate indoor exercise and plenty of sleep, can go a long way in reinforcing the health of at-risk individuals.
Check Your Home Caregivers
Many older adults receive care in their own homes. This means that home caregivers regularly come in contact with our older citizens. Make sure to talk with caregivers about the guidelines and verify their hygiene practices. Check their personal protective equipment (like masks and gloves) and disinfect any other equipment they bring to the premises. Most importantly, make sure that they are healthy and are not feeling any symptoms of the virus.
Reduce Travels and Visits
Practice social distancing. Stay at home, and don't visit nursing homes—many have gone into lockdown in the US. Many older people have regular visits with their grandchildren, senior social groups, and at crowded places like grocery stores; these increase the number of people they come in contact with, in turn increasing the risk of contracting the virus. Experts also recommend canceling recurring but nonessential doctor's visits. As a response, hospitals in the US are now expanding their telehealth offerings, and Medicare just recently expanded the coverage for telehealth services. Through remote services, health experts can contain the disease while still being able to screen and treat their patients.
---
While telemedicine hasn't been as prevalent in the US in the past, that is likely to change. With the growing pandemic of COVID-19, and the possibility of community quarantine and lockdown, virtual visits are going to be critical in how we deal with this public health crisis. For most practices, it will be an opportunity to provide guidance and routine checks for at-risk patients without endangering other patients in crowded waiting areas, which ultimately can help curb the spread of COVID-19.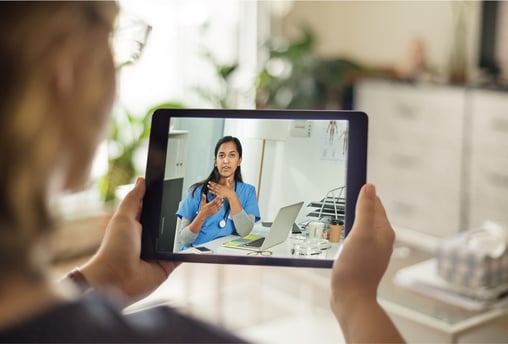 Practices in the country are now racing to adopt telemedicine.
Don't miss out!
Share this post: on Twitter on Facebook on Google+