EHR Must-Haves to Provide Remote Care Anywhere, Anytime
Before the coronavirus pandemic, remote care solutions were hardly an industry staple. The technology existed, but there just wasn't enough demand for it.
There were a lot of misconceptions associated with remote care that made many providers avoid it. In a Stat News article, hematology and oncology specialist Dr. Rujut Saksena explains that the pre-pandemic norm caused doctors to see Telehealth and other remote care solutions "as disembodied and impersonal, making us reluctant to embrace it."
In true zero-to-hero fashion, however, today Telehealth has suddenly become an instant success.
With a growing number of providers finally discovering the benefits of remote care, many EHRs are also stepping up to the plate. It's more important now than ever before to have an EHR that does not only offer a Telehealth solution but also a complete suite of complementary mobile tools.
If your EHR lacks the features that allow for truly remote delivery and access to care, then maybe it's time to make the switch.
EHRs With the Right Mobile Tools Ensure Unimpeded Delivery of Care
Ever since their inception in the mid-1960s, EHRs have evolved with the needs of healthcare. From patient records to improving practice efficiency and increasing access to care, technological innovation has driven major leaps for the industry. Mobile and remote capabilities are no different.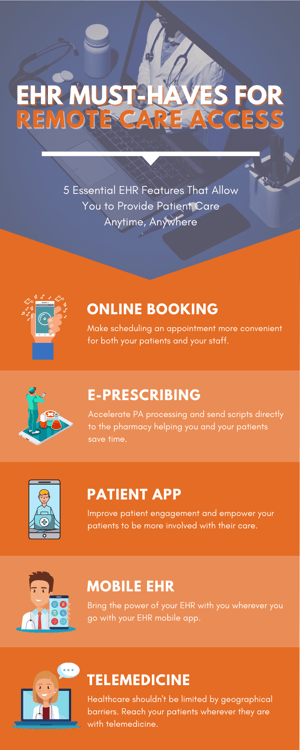 With the coronavirus pandemic highlighting the need for remote care services, the spotlight is likewise landing on the mobile capability of EHRs. However, not all EHRs are created equal. Just because an EHR software offers mobile capabilities doesn't mean it will automatically allow you to provide unimpeded care during the pandemic and beyond.
Remote Care is Here to Stay
Ever since the World Health Organization (WHO) declared the coronavirus pandemic nearly six months ago, Telehealth has been front and center in the efforts to continue the unimpeded delivery of care to patients at home. Although it would've been ideal if it didn't take a global health crisis for the world to finally see the value in Telehealth, nonetheless, this is a change we can all get behind.
Just by the end of March, according to a Blackbook Research study, 59% of the respondents said that they are now more likely to use Telehealth than before. Thirty-nine percent even indicated that they are willing to switch to a new provider if it meant having access to Telehealth services.
While we still don't know the lasting impact the pandemic will have on the overall healthcare landscape, one thing has remained clear: mobile and digital technologies play an ever more pivotal role in how providers reach, interact, and engage with their patients.
In a Forbes article, Modernizing Medicine President and COO Joe Harpaz even claimed that Telehealth is "no longer just a nice-to-have, but instead a must-have for patients and healthcare professionals alike."
It's Time to Think Mobile
Modern technologies have been instrumental in changing how we treat and prevent illnesses. However, large portions of the industry still struggle to adopt those new tools, even when it means increasing access and improving patient engagement.
That said, if the rate of Telehealth adoption is any indication, it would be safe to say that the healthcare sector is done waiting. Adopting an EHR with robust mobile and digital capabilities will be essential during the new normal.
Share this post: on Twitter on Facebook on Google+