2022 Compensation Methodology Changes: How Your Practice Can Prepare
For physicians and physician group practices, the new year ushers in new changes to compensation methodologies. Effective January 1, 2022, the Centers for Medicare and Medicaid Services (CMS) is introducing revisions to the Federal Physician Self-Referral Law, also known as Stark Law. Dubbed as the "Final Rule," the proposed changes are seen to have a significant impact on physician compensation structures.
The Stark Law prohibits physicians from making referrals for certain designated health services (DHS) to entities that the physician or an immediate family member has financial ties with, helping protect patients from unnecessary healthcare-related expenses.
The revisions are prompted by potentially confusing regulations and definitions in the Stark Law, particularly in the current DHS-based profit sharing and productivity bonus distribution rules for group practices. Through these changes, CMS hopes to eliminate any ambiguity in the Stark Law and tighten up the requirements for physician compensation models.
On top of making clarifications to certain existing terms, the CMS Final Rule also intends to modernize the Stark Law — a statute that has remained unchanged since its enactment in 1989. The move aims to steer the law's direction towards reducing physician regulatory burdens, patient protection, and the advancement of value-based care.
It's important to understand these changes to maximize your earnings. Your practice's post-pandemic recovery will rely heavily on your ability to adapt to the onslaught of industry changes that will shape the future of healthcare and profit management.
Read More: Highlights from UGM 2021: Your Post-Pandemic Playbook
Stark Law Modifications Timeline
On December 2, 2020, CMS published the final Sprint Regulations, clarifying the original intent of some critical aspects of the Stark Law. While most of the Sprint Regulations took effect on January 19, 2021, some provisions about the law's group practice rules were deferred to January 1, 2022.
The move to delay the reinterpretation of the group practice rules was to give physician group practices ample time to adjust and restructure their compensation models to align with the new requirements.
What It Means for Your Practice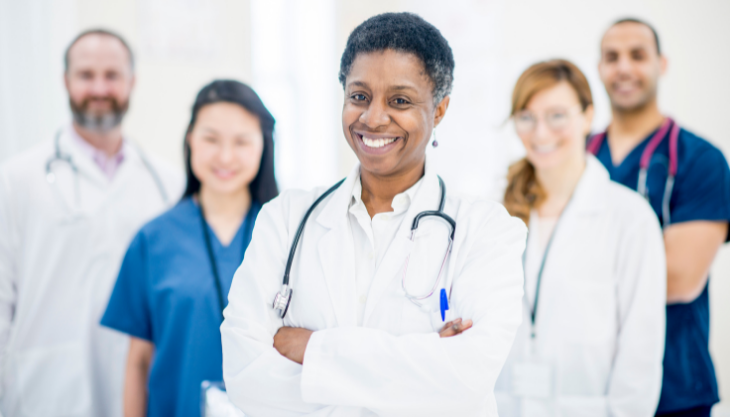 The changes under the Stark Law Final Rule could mean different things to different practices. Depending on your existing physician compensation structure, you may have to make adjustments or a complete restructuring of your compensation model.
Before the Final Rule's publication, "overall profits" were defined as two different things: the group's entire profits derived from DHS and the profits derived from DHS of any component of the group that consists of at least five physicians. The definition was deemed ambiguous and was always a topic of debate.
Under the Final Rule, however, the term "overall profits" was given a more direct and straightforward interpretation. It now means profits derived from all DHS of a group or any component of a group with at least five physician members. For groups with fewer than five physicians, "overall profits" means the profits derived from the entire group's DHS. Thus, diversifying the ways of your group's profit distribution based on the type of DHS is no longer permissible.
No More Split-Pooling
Part of the clarifications in the Final Rule implies that physicians may only receive profits from a single distribution pool. That means the compensation model of developing profit distribution pools based on service lines, commonly known as "split-pooling," is no longer allowed under the Final Rule.
If your practice currently employs a split-pooling distribution method for DHS, you must revise your compensation structure before the year ends. To do this, you can aggregate your entire group's DHS profits at the group level before distribution.
Another alternative to split-pooling is to divide physicians into multiple 5+ physician clusters and aggregate all the DHS-derived profits into each cluster prior to distribution. This option works best if each of those 5+ physician clusters has profits from more than one DHS category and participates only in one cluster.
Read More: $25.5 Billion in COVID-19 Provider Relief Supports Smaller Practices
Start Preparing Early to Stay Compliant
With plenty of additional revisions in the Stark Law Final Rule, it's crucial to get a head start and begin evaluating your practice's current compensation and profit-sharing methodologies as soon as possible. You'll have a clearer picture of the extent of restructuring you need to align your compensation model with the new restrictions before its effective date on January 1, 2022.
Making changes to your existing compensation framework is no easy task. On top of the time, effort, and money you put into it, adjustments are bound to disrupt your established workflows one way or another. However, it helps to have experts do the heavy lifting for you to mitigate the disruptions as your practice transitions to a new compensation structure.
Meditab has a team of remote support specialists trained and experienced in revenue cycle management, medical billing, compensation methodologies, and other administrative and clinical functions. Unlike other staffing companies, Meditab's on-demand remote staffing services are tailored to your individual needs, so the team doesn't just work for you; they work with you. Even when unexpected changes like the new compensation restrictions arise, with Meditab, you can rest assured that there's a team to instantly fill any emerging needs.
Share this post: on Twitter on Facebook on Google+